In recent years, many online publishers, including news and government agencies, have shifted to a plain language approach. Authentic texts today are more accessible to modern readers with short attention spans. This is good news for language teachers who are looking for advanced reading materials.
Do you use authentic reading materials with your ELLs? We've created an editable Advanced Reading Comprehension resource that you can use with any article that you assign to your high-intermediate to advanced English learners. It includes editable questions, a blank page to copy, paste, and type, and a fillable vocabulary chart that you can personalize to go with any article.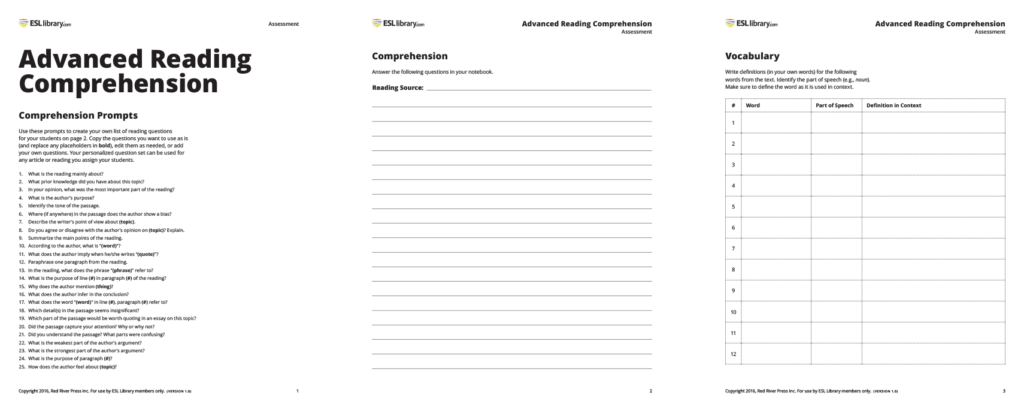 Here is an activity to try with this resource:
Choose a Relevant Article
Browse some news sites or click on links that are shared in your Twitter or Facebook feeds. Look at articles from well-known publishers that offer trusted and factual information. This article about elephant poaching in National Geographic is a good example. Have a look at the article to see if it is suitable for your students. Notice that the layout in this article is easy to follow, and the sentences and paragraphs are quite short. Some of the words are even defined for the readers.
Begin with a Graded Reading
Now see if you can find any ELT material on a similar subject. The environment is a great topic because there are so many related topics that students can get into. Choose a reading from ESL Library (or one of your textbooks) and complete a lesson with your students to give them some background knowledge and experience with the subject matter or theme. For example, try our high-intermediate lesson on Trophy Hunting (podcast preview here).

Prepare Some Discussion Questions
Have a short discussion about the topic before you get into the authentic text. Ask some questions based on the reading. Whenever possible, use language from the reading.
Where is Kenya?
Are elephants endangered?
What is poaching?
Why do poachers kill elephants?
What is aerial surveillance?
What's a conservationist group?
According to ELT materials writer Nicola Prentis, this could be the most important part of your lesson. Check out Nicola's approach to authentic materials: Reverse Reading.
Hunt for Mini-Lessons to Teach
Read the article and pull out any excerpts that contain grammar or usage that you want to highlight with your students. For example, the title and the first sentence of the article offer a nice reminder to use a plural noun after "one of," a mistake my writing students often make.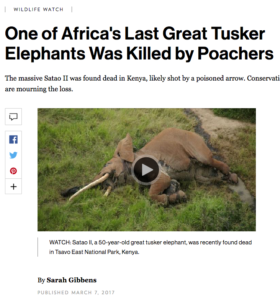 One of Kenya's last great tusker elephants was reportedly shot and killed by poachers.
You could also highlight how to add a direct quote.
"More importantly, this poaching gang that possibly tried to poach Satao II has been broken forever," the group said on their website.
You might also review how to write large numbers.
Current populations are estimated to be as low as 415,000, a decline of more than 100,000 since 2007.
Review Parts of the Article
Help your students become familiar with the different parts of an online article:
Headline (discuss headline-style capitalization)
Subtitle or overview
Photo
Caption
Byline
Links
Related material
Comments
Choose Vocabulary
Just as you would find in a ready-made lesson, choose 7–10 vocabulary items to include and add them to the vocabulary page in this resource. These won't always be the most difficult words. Many content-specific words aren't that useful to teach because students are unlikely to see them often. You might instead choose words that are used in context in a way that students may be unfamiliar with. Choose a variety of word forms (adjectives, verbs, nouns) and encourage students to practice using them together.
routine flyover: choose a word chunk and discuss similar ones (e.g., routine check-up, routine traffic stop)
poach: go over words that have different word forms in the article (If you do a search and find, you'll find 14 instances of this word: to poach, poaching, poaching-related, poacher, poached)
executive order: choose a word that is hot in the news right now (your students are likely to see it and want to use it)
How to Tackle the Reading
There are a variety of ways to assign the reading. You can read it together out loud or silently for homework. Students can take turns reading in pairs. Sometimes you can even listen to an article. Have students circle a few vocabulary words that they want to look up. You may not want to assign the whole reading. If it's too long, choose a few paragraphs.
See: Authentic Materials – Grading the Task
Here are some tips on making authentic readings more manageable.
Prepare Comprehension/Discussion Questions
Try ESL Library's ready-made comprehension question set. You can pick and choose the questions you want to use, and personalize them to go with any authentic reading that you use in class. Ask the questions out loud or assign a few for writing homework.
Blend & Assess Learning
Now you can go back and talk about the two different topics. How are poaching and trophy hunting different? What's similar about these issues? Which poses more danger for endangered species? Which is more unethical? What other issues are related? Have students record their personal opinions in a selfie video (or a written response). Here are some ready-made Personal Opinion Assessment Tools that you can use or personalize.
Learn More About Blending Authentic Content with ELT Materials