We're back! The ESL Library team has just returned from our annual TESOL convention. This year we went to Atlanta, where "Every Day Is an Opening Day!"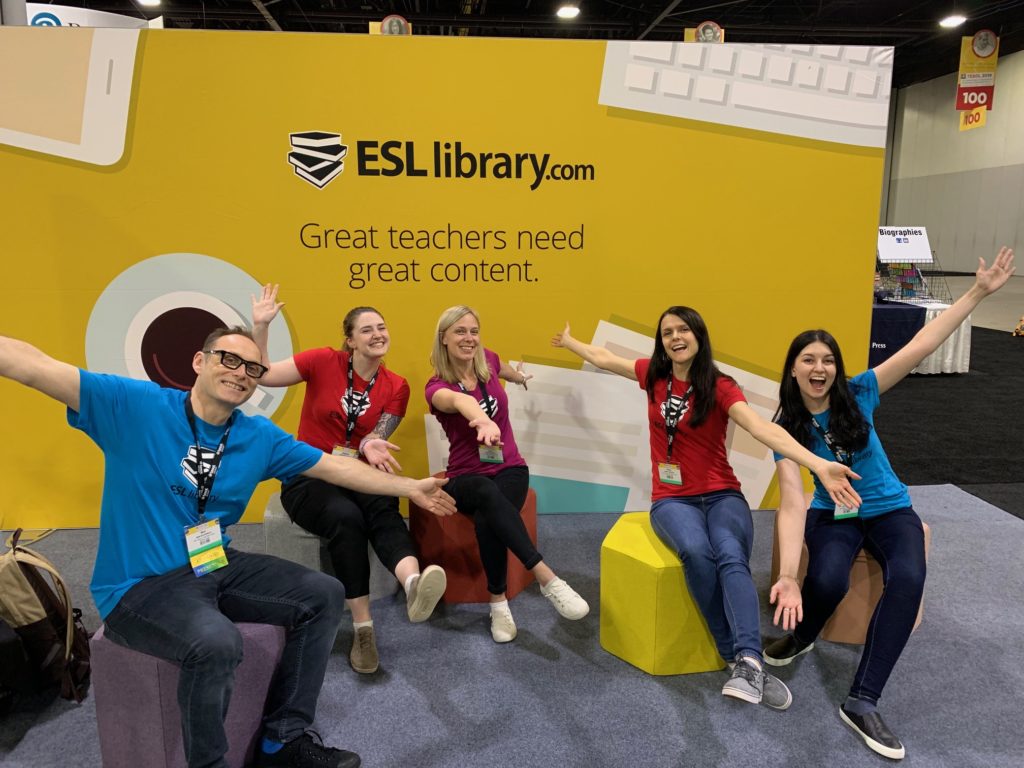 For some of us, TESOL is something we look forward to every year. Our CEO Ben Buckwold has been to 13 TESOL conventions! For others on our team, TESOL is a relatively new experience. Atlanta was Ginny's first time and she rocked!
"Ginny was so helpful in answering all my questions—friendly and just a delight."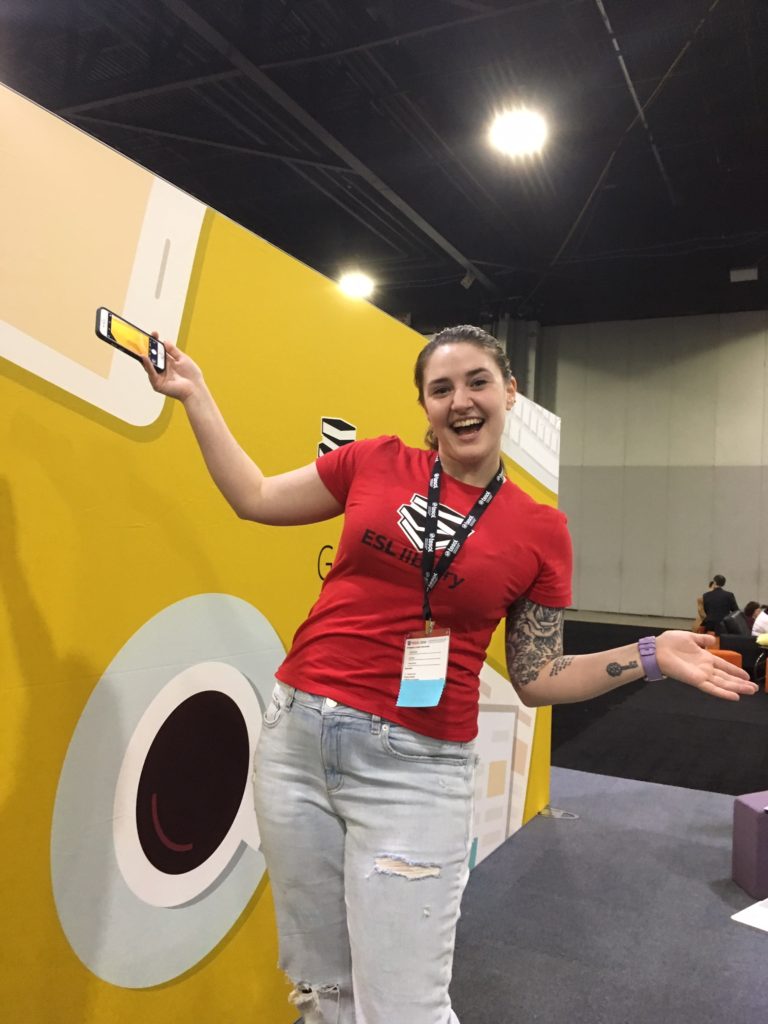 Once again, ESL Library was an official sponsor of the international convention. We sponsored the prize booth and gave away three Apple Watches and several Amazon gift cards.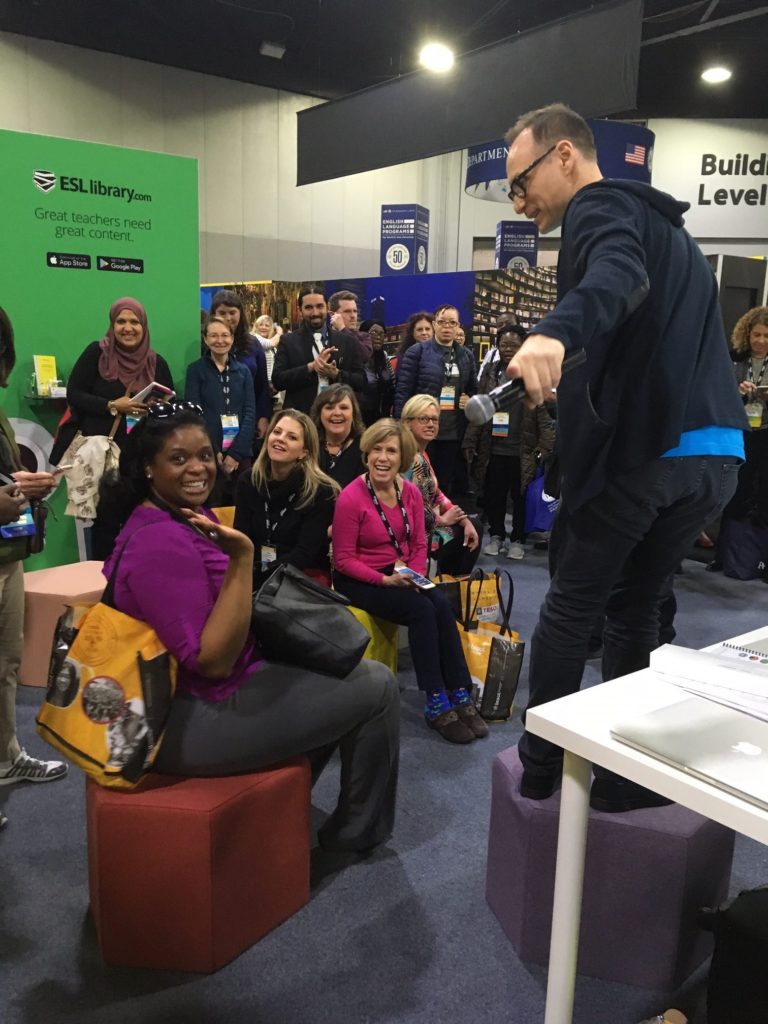 Congratulations to all of this year's prize winners!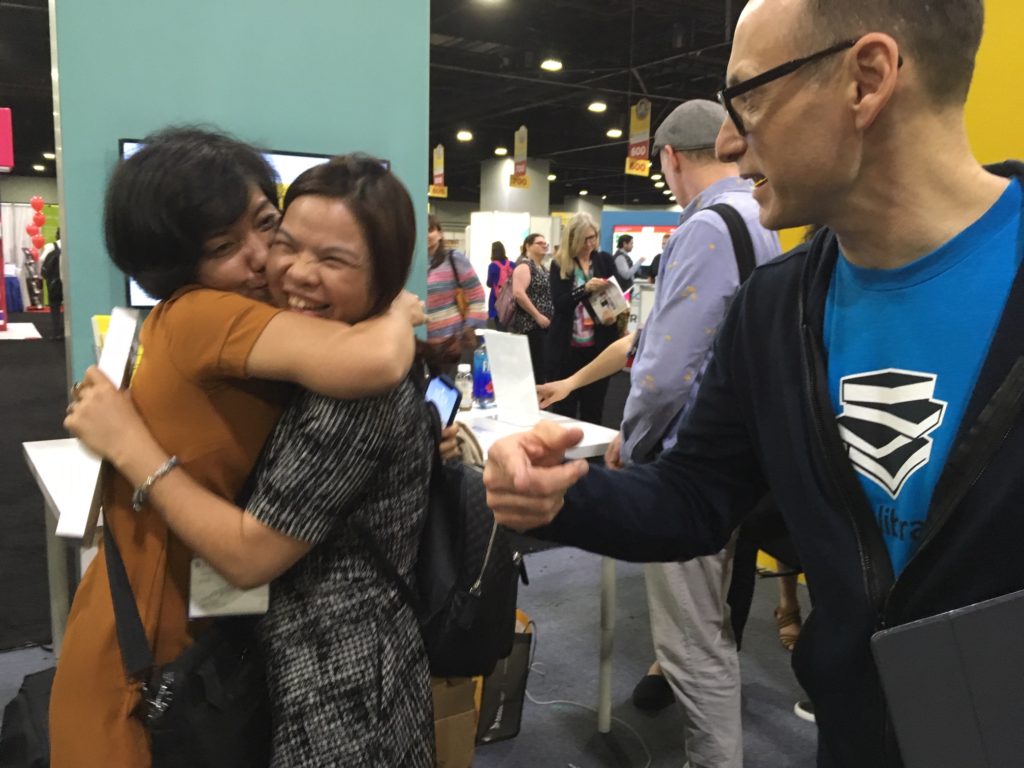 Sessions & Demos
Ben presented at three sessions, introducing many TESOLers to the ever-growing resources at ESL Library. Long‑term subscribers also attended to learn more about our new digital platform.
At Booth 321, we all took turns showing off our new site and materials to enthusiastic TESOL attendees! The best part (as always) was the visits from happy subscribers like Yolanda (below). It's always such a great feeling to meet our members in person and hear that we are making their lives easier.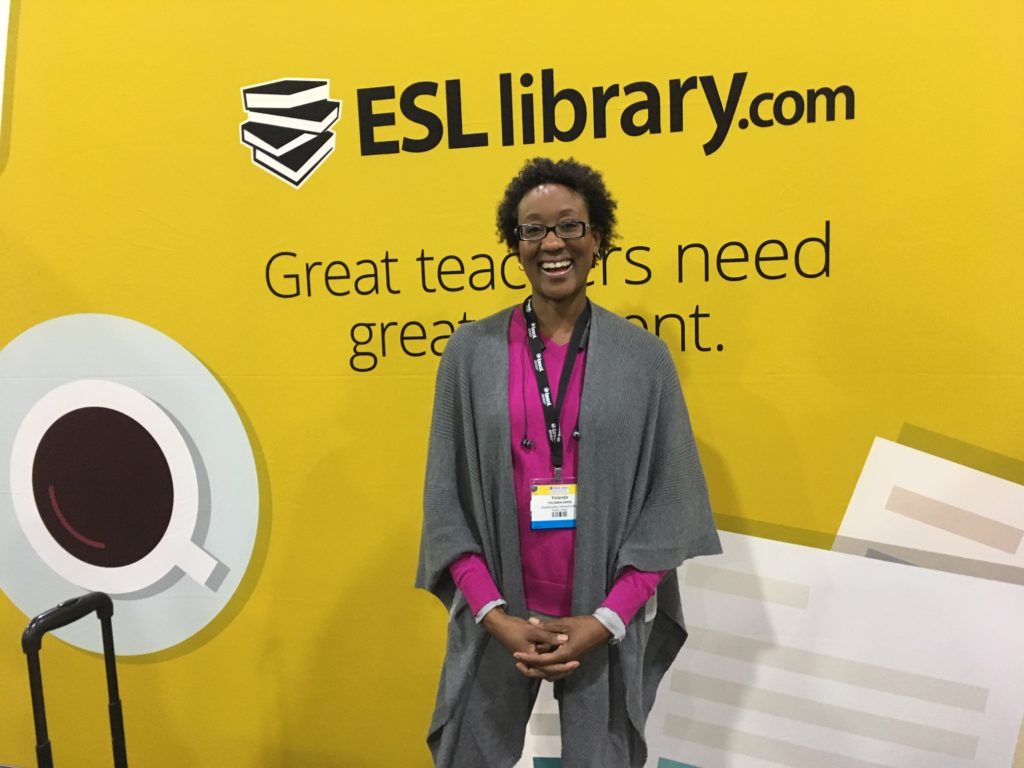 Professional Development
In addition to meeting teachers and administrators at the booth, Tanya and I attended sessions about vocabulary, grammar, pronunciation, assessment, digital tools, and ELT publishing trends! Watch for an upcoming post on Tara & Tanya's Top 10 TESOL Takeaways.
Lodging & Sightseeing
While in Atlanta we stayed at the Aloft Hotel, which was a short walk from the Georgia World Congress Center. There was a cozy lobby with fantastic local art where we were encouraged to unwind each evening before heading out on the town.
Restaurants
We enjoyed delicious meals and beverages at these great restaurants in Atlanta:
Bottle Rocket (we had delicious sushi, esp. the signature Bottle Rocket Roll)
Max's Coal Oven Pizzeria (we ordered way too much pizza and beer)
Sunflower Cafe (we had amazing vegan food)
Barcelona Wine Bar (we enjoyed the cool vibe and nightlife )
Metro Cafe Diner (we sang, we danced, we ate giant pieces of cake)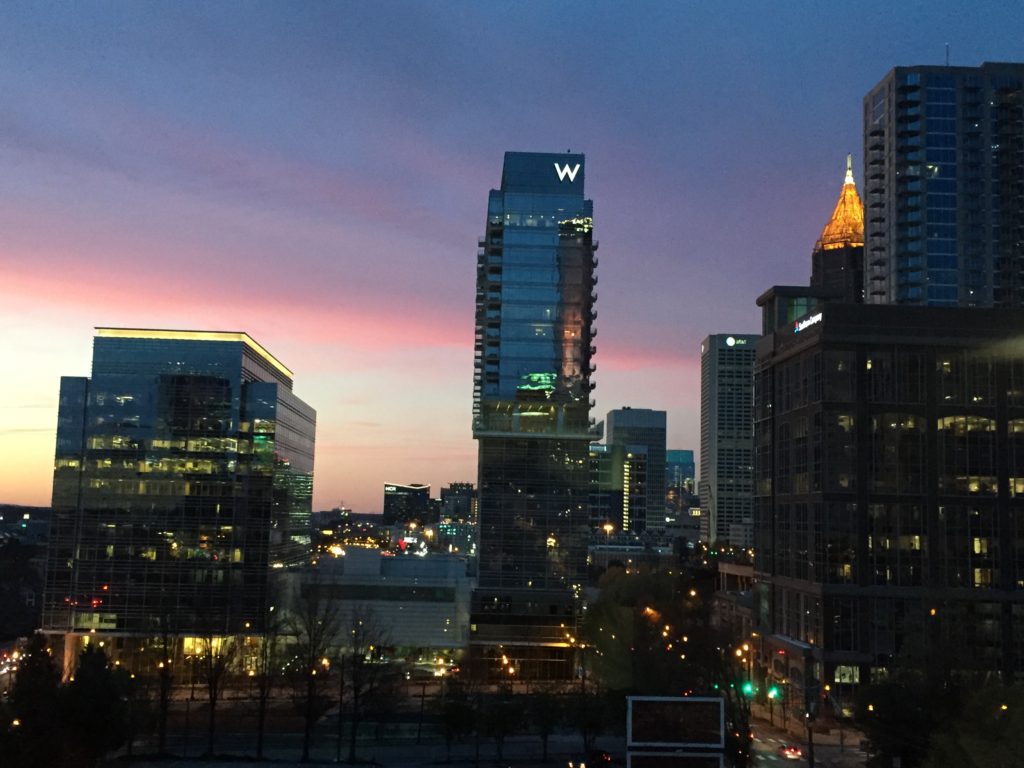 Attractions
We didn't have enough time and energy to see all of the great attractions we had planned, but we did get a nice feel for the city and took in a few attractions including the following:
Karaoke Nights! (at Metro Café Diner)
Centennial Olympic Park
CNN Center
The Krog (markets and graffiti tunnel)
Martin Luther King's birthplace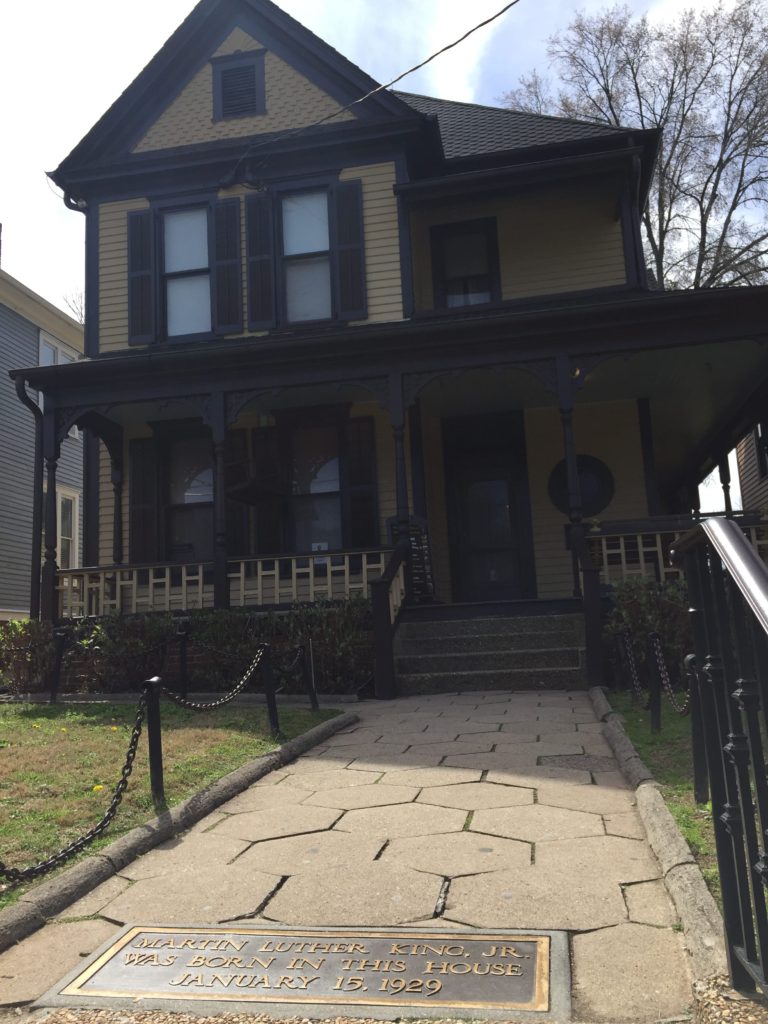 Visit our Instagram feed to check out some awesome Atlanta art.
Requests
One of our top priorities at this year's TESOL conference was to showcase and get feedback about our NEW digital platform. We also asked teachers what else they'd like to see on ESL Library. While many told us to just keep up the great work, others asked us to focus more on inclusive language and social issues. Some requested more conversation lessons for beginner and low-intermediate learners. We also had requests for speaking assessments, customizable content, and ready‑made courses (all in the works).
Conference Highlight
My personal highlight this year was meeting a teacher trainer from Saskatchewan who came by the booth to find out all about our publishing process. We were thrilled when he told us that he uses ESL Library lessons as his model because the pedagogy, content, and design are exactly what he wants his teachers to strive for when developing their own materials. He also invited me and Tanya to Skype with his students the next time he's running the materials writing section of his program. Maybe next year we can do a TESOL session on materials writing and design!
We hope to see you in Denver for #TESOL20 (my 10th TESOL convention)!
Tara & the ESL Library Team
PS. The publishing and upkeep of ESL Library is an Olympic effort every day, and we couldn't have done #TESOL19 without all our designers, developers, writers, editors, and customer service staff! Missing from the photo below is Ann, our American editor who drove down from Virginia to enjoy the conference and hang out with the team.