Vocabulary about family members and relationships is useful for all ages and levels. Beginner-level students need to learn basic relations (e.g., mother, uncle, niece, etc.) while intermediate-level learners can expand on the basics (e.g., brother-in-law, stepsister, etc.).
If "Family" is a new topic for your learners, teach them the basics before you try the family vocabulary review activity. If you're looking for lessons, ESL Library has a lot of materials on the family!
For children & literacy students:
For teens & adults:
After your students have learned basic family vocabulary, challenge them to the fun, fast-paced activity below! It's one of my favorite ways to review family vocabulary. My students love the competition that this brain-teaser activity provides!
How to Play
Divide the class into two teams.
Pick one person from each team to take a turn simultaneously.
Read out the first phrase from the Teachers' Guide below. (Don't read out the answers in parentheses. Answers are provided for your reference.)
Give a point to the team of the student who yells out the correct answer first.
Continue by choosing two more students and reading the second phrase.
Alternatively, you could divide the class into two teams but let anyone from either team shout out the answer. The pro to this method is that it gets loud and competitive! The con is that you might not hear from all the students, especially the quieter ones.
Teachers' Guide
My father's brother. (uncle)
My brother's sister. (sister)
My mother's father. (grandfather)
My son's sister. (daughter)
My grandfather's daughter. (mother/aunt)
My aunt's son. (cousin)
My sister's daughter. (niece)
My father's mother. (grandmother)
My mother's son. (brother)
My cousin's brother. (cousin)
My sister's mother. (mother)
My uncle's wife. (aunt)
My grandmother's son. (father/uncle)
My mother's mother. (grandmother)
My uncle's daughter. (cousin)
My nephew's mother. (sister)
My brother's uncle. (uncle)
My daughter's brother. (son)
My brother's son. (nephew)
My mother's husband. (father)
Use the review worksheet from our Resources section as a follow-up. Students can complete it for individual homework or in class in pairs or small groups.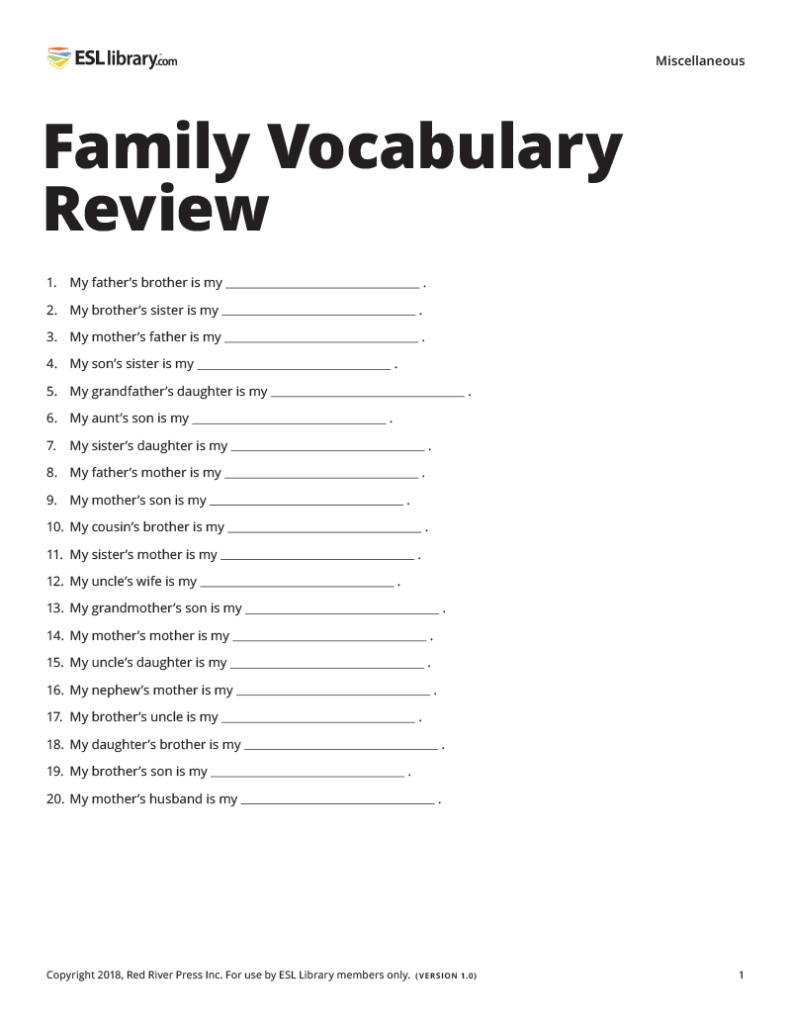 How do you practice family vocabulary in class? Share your ideas in the comments section below!
Not an ESL Library member? Get unlimited access to 1,000+ lessons and 2,000+ flashcards. Subscribe today!