TESL Ontario Conference 2017
Did you attend the TESL conference in Toronto this month? Three ESL Library staff attended this year! It was great to have Taylor, our new accounts manager, helping at the booth so Ben could focus on presenting and meeting with administrators and I could soak up as much info as possible at the PD sessions.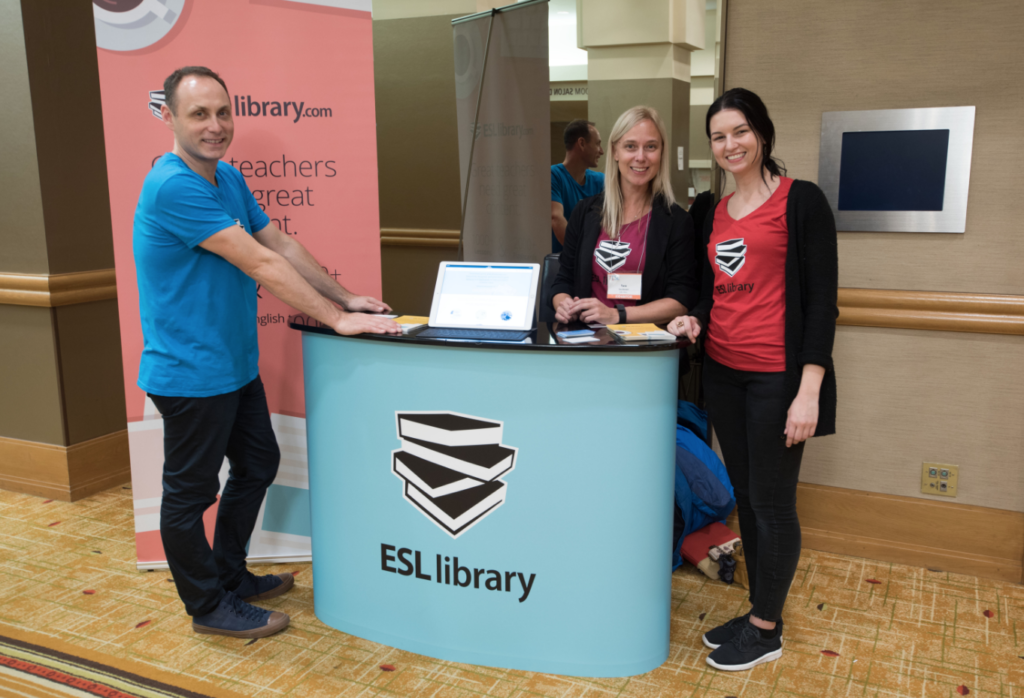 It came as no surprise that the PBLA (portfolio-based language assessment) sessions were the most popular. I realized quite quickly that I needed to line up 15–30 minutes early to get into these sessions. The TESL session on Sharing PBLA Best Practices was so popular that the organizers had to literally slide out the walls to accommodate us. There was a mix of PBLA frustration and enthusiasm at my table, and the expression "putting the cart before the horse" (the program before the materials) was echoed around the room.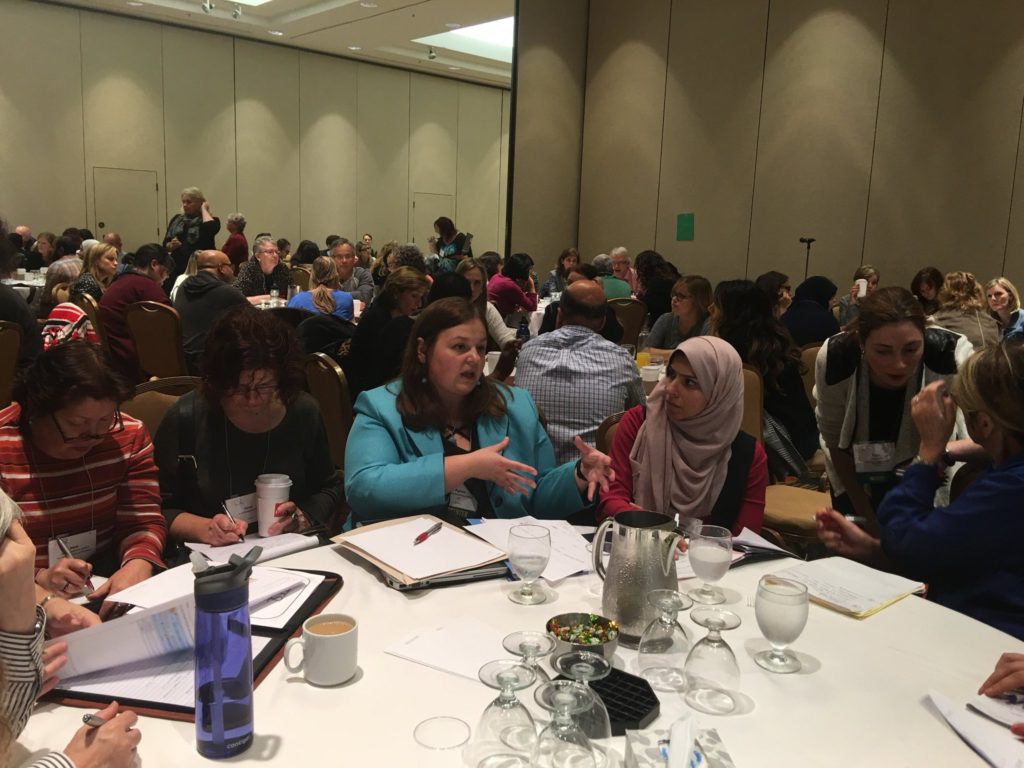 I was thrilled that the majority of the attendees I spoke with at my table were either already ESL Library subscribers or were using our site on a trial basis arranged by their lead or administrator. One teacher who spotted my ESL Library T-shirt sweetly thanked us for being the "NETFLIX of ESL."
Literacy
At last year's TESL conference, teachers were begging ESL Library for PBLA and CLB-aligned materials. This year their #1 request was for more literacy mats. The TESL sessions on literacy were also packed out, but I was pleased to find a seat in a few great sessions, including I NO Little English, my favourite session this year. Here's a little overview for those of you who were unable to attend. (See Presenter Handouts – Karimi Nov. 2.)
I NO Little English
By Anjum Karimi and Kelly Keki
"Every holiday is celebrated so they understand the essence of Canada. We are like a big, happy family."

—Anjum Karimi
You could say Anjum had me at "hello." Her passion for teaching literacy was evident from the moment she welcomed us.
The basis of this workshop was to share tips and activities for teaching literacy in a stress-free, relaxed way. It was a joy to hear Anjum describe her relationship with her literacy students, and I couldn't help think that every newcomer should have her as their first Canadian teacher.
When one attendee asked Anjum how she dealt with male students who didn't want to work with females, she had a simple, straightforward answer: I just remind them that they came to Canada for a reason and that Canada is a beautiful place where everyone is equal. All same!
Literacy Tips
Anjum shared some excellent tips for teaching literacy. Here is a brief summary:
Help Ss (students) fall in love with Canada.
Teach Ss socially acceptable behaviour in Canada ("cellphone at volume 0", hold the door, form a line).
Emphasize the importance of punctuality from day one.
Give rewards that literacy Ss appreciate, such as pencils, erasers, and post-it notes.
Use calendars to get Ss into very simple routines (including coffee breaks, which they live for).
Use lots of gestures (and write the corresponding words on the board).
Encourage Ss to show off their expertise (knitting, art, mechanics, etc.).
Slow down! Remind Ss that learning a language is not a race.
Use humour. Always keep them laughing so they want to come back every day.
Use afternoons (when energy is lower) for games and review.
Have lots of team competitions.
And the most important job of a literacy teacher: give them confidence. (Celebrate every little thing!)
Literacy Activities
Anjum's co-presenter Kelly shared a number of literacy games and activities for practising letters, sounds, and numbers. Here are a few of her ideas:
Play Go Fish! (for numeracy).
Buy a few bags of Bananagrams (enough for each group to use for alphabetizing, spelling, and many games and activities).
Play I have a…, Who has a… (with letter and number cards).
Play the phone number code game (write letters below a 7-digit number, shout out the letters and have students write the corresponding number, then ask students what the phone number is).
Write numbers on the back of a small jigsaw puzzle (students work together to assemble it upside down).
Practise the "Alphabet Song" in chunks (ABCDEFG, HIJK, LMNOP, QRS, TUV, WX, YZ).
Review the sounds of letters using visual Sound Clues resources.
ESL Library's Literacy Plans
The TESL Ontario conference helped reinforce what we already knew. There is a growing need for CLB-aligned materials for literacy in Canada. To address these needs, our publishing team will be consulting with literacy experts, taking courses, and studying the ESL for ALL guide and samples just as we did for the PBLA rollout. Here are some of our post-conference goals:
Add PBLA assessment tasks and tools to go with our Word Bank lessons. (Ready!)
Add more Word Bank lessons related to LINC themes and teacher requests (e.g., Apartment).
Make our Flashcard section more user-friendly.
Add more flashcards related to real-world tasks and needs (e.g., Apartment).
Add a digital Suggestion Box to encourage more subscribers to make content requests.
Add literacy materials for Numeracy. (In the works!)
Add a Phonics section. (In the works!)
Add a Super Simple Grammar section. (In the works!)
Adapt our core Everyday Dialogues and Functional English lessons for CLB 1L–4L.
Merge content from our YL site to ESL Library. (In the works!)
A big thank you to all of the TESL Ontario presenters and organizers and all of the ESL Library subscribers who attended! We learned so much from all of you and will continue to develop and tweak our materials to meet your needs.