Questions are an essential part of communicating in English. From classroom instruction to small talk, English language learners need to grasp the basics of question formation early on in their studies. A subscriber recently asked us for a resource on question formation, and we decided to share it on our blog as well. So how exactly do we form questions in English?
Question Formation Chart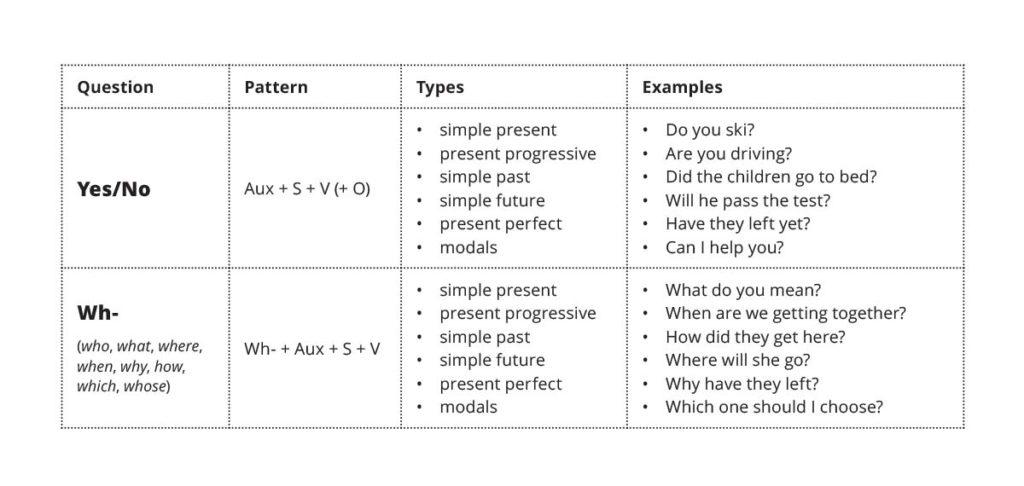 Chart Key
S = Subject
Aux = Auxiliary
V = Verb
O = Object
Notes
Note #1
When the Be verb is the main verb in a question, it has a different pattern in the simple present and past tenses.
| Question | Pattern | Example |
| --- | --- | --- |
| Yes/No | Be + S | Is this your dog? |
| Wh- | Wh- + Be + S + O | When were you in Rome? |
Note #2
The auxiliaries do, be, and have take an -s in the third person singular form (with he, she, it, singular count nouns, and non-count nouns).
Does she like ice cream?
How is your son feeling today?
Has everyone left yet?
Note #3
Wh- words usually act as the object of a sentence.
Wh- + Aux + S + V
She (S) likes (V) pizza (O).
What (O) does (Aux) she  (S) like (V)?
However, some Wh- words, especially who and what, can also act as subjects in English.
Wh- + V (+ O)
Nobody (S) cares (V).
Who (S) cares (V)?
Something (S) happened (V).
What (S) happened (V)?
Note #4
Auxiliary phrases like be going to, be able to, have to, etc. follow the usual patterns.
Are you going to call me later?
Does he have to leave?
Fun Activity
For an easy warm-up or filler activity, try doing a student-designed Q&A.
First, cut up enough blank cards to have five (or ten) per student.
Next, get students to write conversation questions of their choosing on their cards. (You can give students free reign or choose to practice only Yes/No questions, Wh- questions, questions in a certain tense, etc.)
If needed, put some examples on the board (e.g., What's your favorite dish? When did you start studying English? Do you prefer summer or winter?).
When they've finished writing their questions, collect the cards and shuffle them together.
Now put students into small groups and divide the cards up evenly.
Finally, have students take turns choosing a question and asking it to one or more of their group members. (You can choose a time limit, such as 20 minutes, or let them talk until their cards run out.)
Related Resources
Not an ESL Library member? Get unlimited access to 800+ lessons and 2000+ flashcards. Subscribe today!