"The best way to improve is to listen to English. A lot. There's no way around it; you have to spend hours and hours listening to people speaking English. " —Aaron Knight, PhraseMix
Simplifying Homework for ELLs
With so many self-study apps and sites, language learners often feel overwhelmed about what to do for extra practice. It's not just students who feel overwhelmed. Many teachers also feel pressured to assign extra practice outside of class time.
What can we do to simplify homework for ELLs?
For the past two years, my son's grade school teacher has assigned one thing for homework: reading. To keep things interesting, he changes up the amount of time his students should spend reading (something random, such as 33.5 minutes). Not only has this reduced homework stress, my son now reads for pleasure.
A similar approach can be used with English learners. Here is one simple homework assignment that teachers can assign to teen and adult ELLs:
Listen to English en route.
By en route, I simply mean to and/or from school every school day.
What can students listen to?
Since most students won't want to stream audio outside of Wi-Fi, the most difficult part of this homework task is remembering to download audio to a mobile device ahead of time. Encourage students to find content that is relevant and interesting.
Have at least a few suggestions available so that students can't give you the excuse that they couldn't find anything to listen to. ESL Library's 200+ free podcasts are a good start. (To download, they can right click the audio file and save. They can also subscribe on iTunes.)
podcasts for English learners
podcasts by topic
English music / radio
TED Talks
audio books (download free from the library)
comedy shows
news for English learners
Place this Recommended Listening Resources form on a wall in your classroom and have your students add to it when they find interesting sources.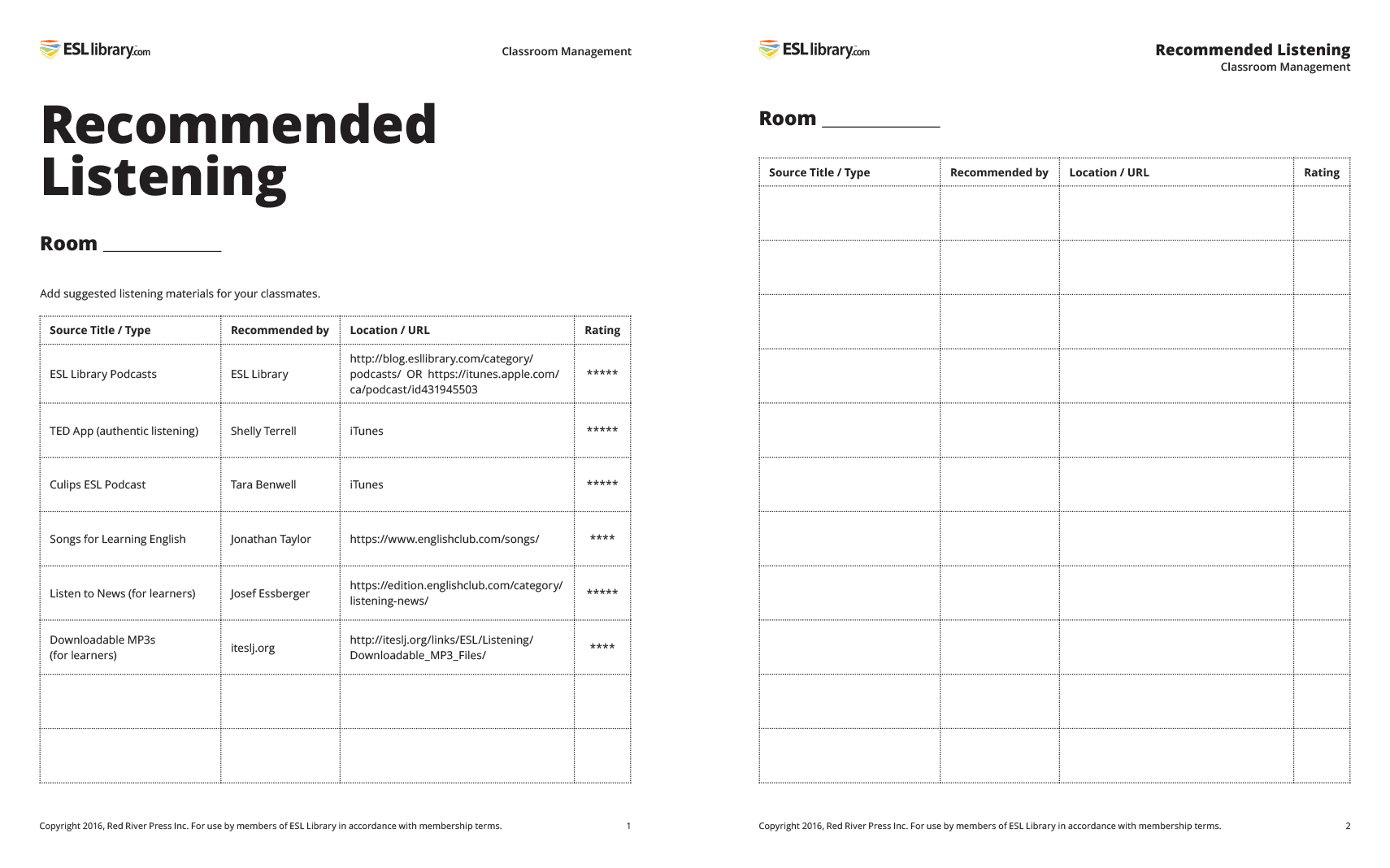 What to listen for
If you feel the need to have a more defined homework task, you can give your students some real-life reasons for listening to English. Change it up each day or week if you choose.
listen to get the gist
listen to find specific information
listen to learn informal language
listen to form an opinion on a current event
listen to learn a few new words in context
listen to learn the pronunciation of words you've read but not heard
listen to learn interesting information
listen to enjoy entertainment in another language
Checking In
A twelve-year-old student told me the other day that she hates reading because for four years she had to keep track of everything she read in a school reading log.
Though many students gain a sense of accomplishment by logging progress, others dread it. A verbal check-in is much more practical in the language classroom.
Each day, ask a few of your students what they listened to on their way to school. Maybe they found a new song that they loved or maybe they are listening to a good audiobook. Some students will volunteer to share what they are listening to.
To keep things interesting, add in a weekly or monthly selfie video assignment where students create their own audio by summarizing what they've been listening to.
This simple homework approach can also be changed monthly. Next month, ask your students to simply read English en route.
Related
How to Improve Your English Listening Comprehension By Aaron Knight
Building TEFL Listening Skills By Nathan Beyerlain
Using ESL Library Podcasts for Dictogloss Activities
How to Improve Listening Skills with Podcasts