Classrooms of the Future
The ESL Library team has just returned from Baltimore after the annual TESOL convention. 2016 was TESOL's 50th anniversary, and ESL Library played an important role as an Event Partner at the TESOL Classroom of the Future exhibit.
During our Classroom of the Future presentation, CEO Ben Buckwold used our most recent Discussion Starters lesson to showcase a paperless feature that is coming soon for ESL Library subscribers and online tutors. It was great to test out our work in progress with a live audience using one of our very own lesson plans.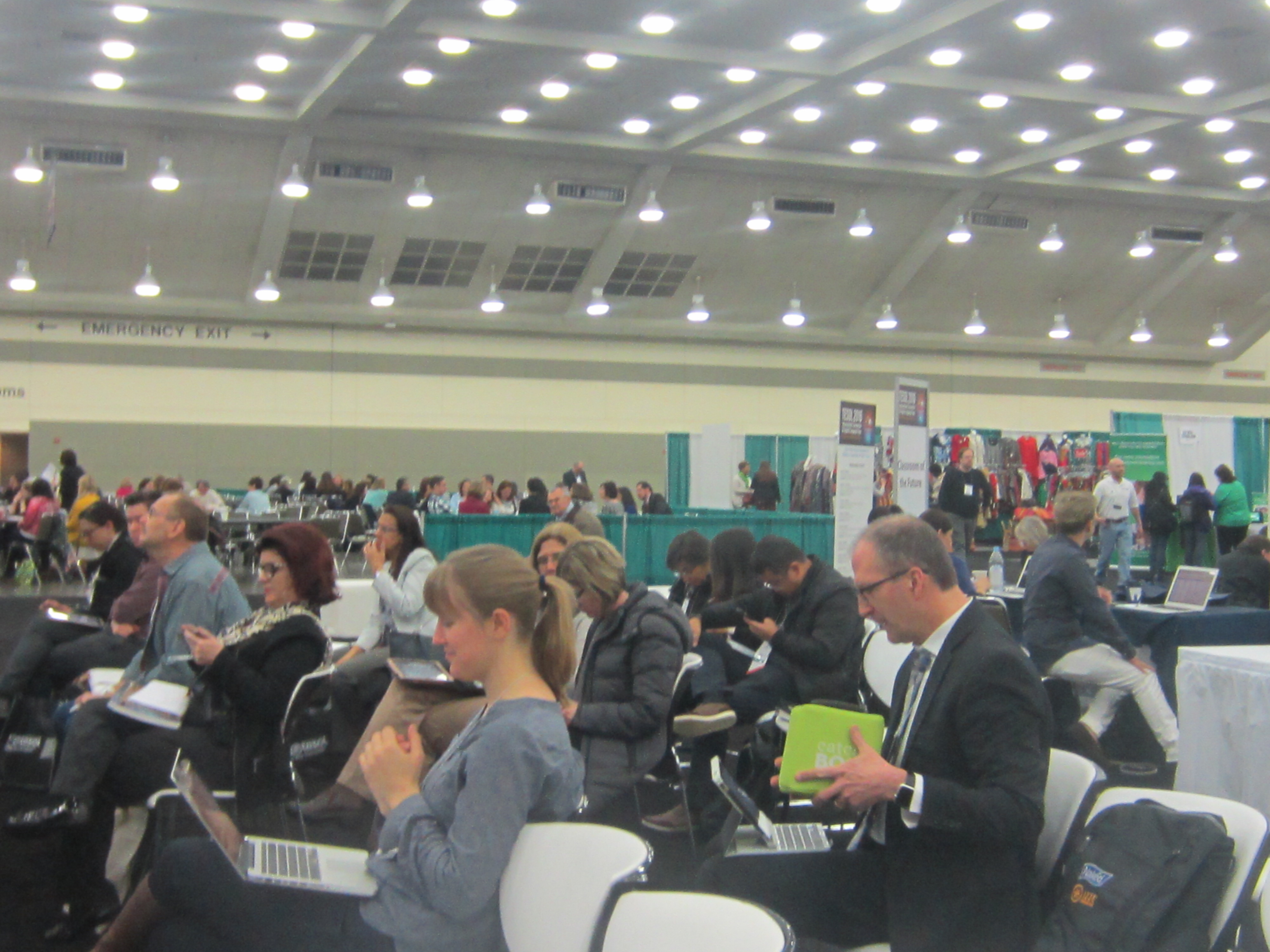 Though this year's anniversary theme was Reflecting Forward, allow me to reflect back for a moment on our fantastic week at TESOL.
Our Team
Our team arrived in Maryland from Toronto, Winnipeg, and Vancouver. We were joined by our first official ESL Library Ambassadors—teachers who subscribe to our site and volunteered to share their enthusiasm about it in Baltimore. Throughout the week, we met attendees from all over the world, including this adorable librarian from Tanzania who won our hearts and our grand prize—an Apple Watch!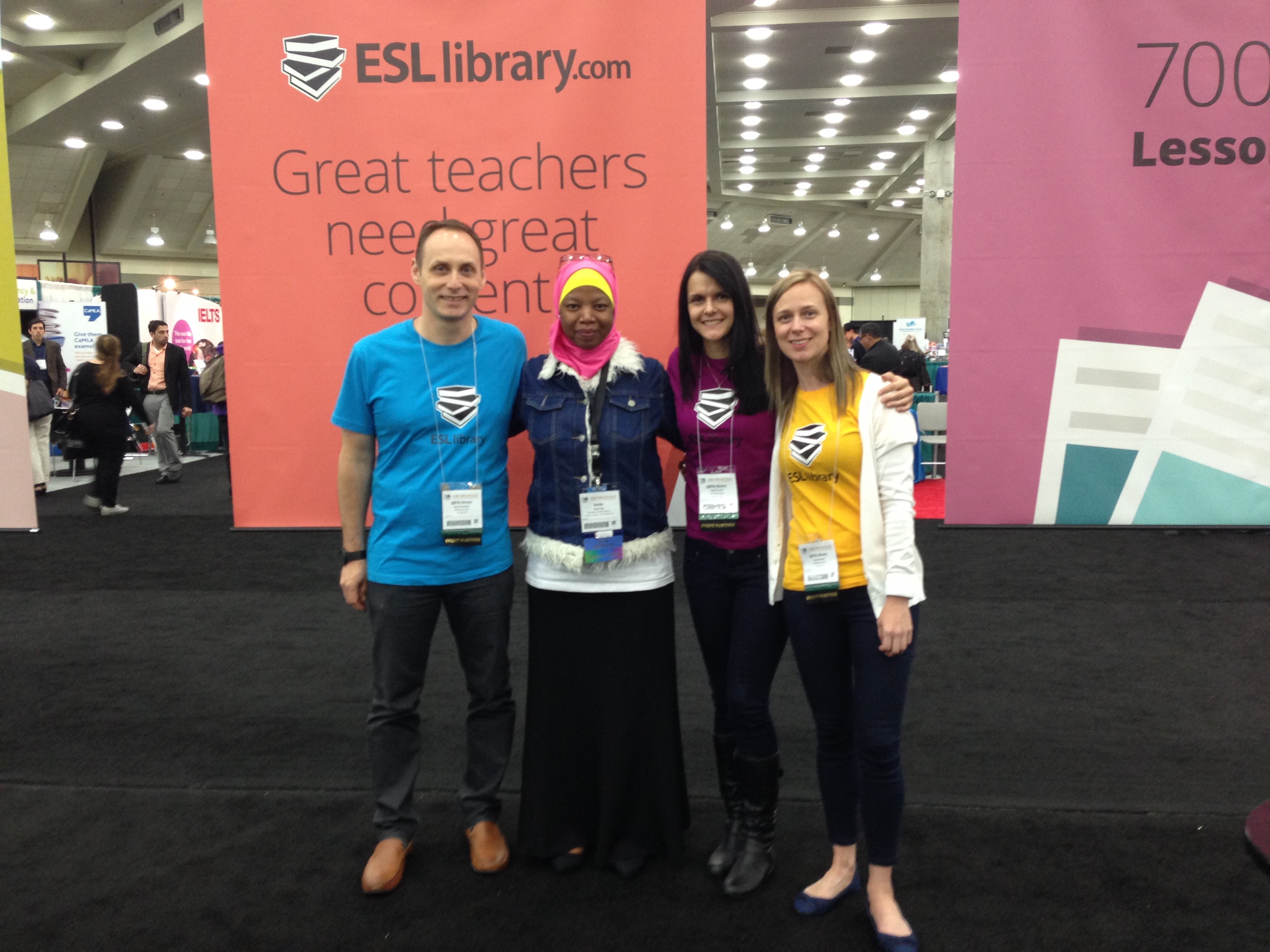 From left to right: CEO Ben Buckwold, Apple Watch winner Saida (librarian from Zanzibar Public Library), editor Tanya Trusler, writer Tara Benwell
Baltimore
Attending teaching conferences is a great way to explore the world. Here are some things we loved about Baltimore.
Little Italy – Now we know why they call Baltimore "Charm City." This part of the city had delicious food and charming restaurants with meals that were big enough to bring some home for lunch.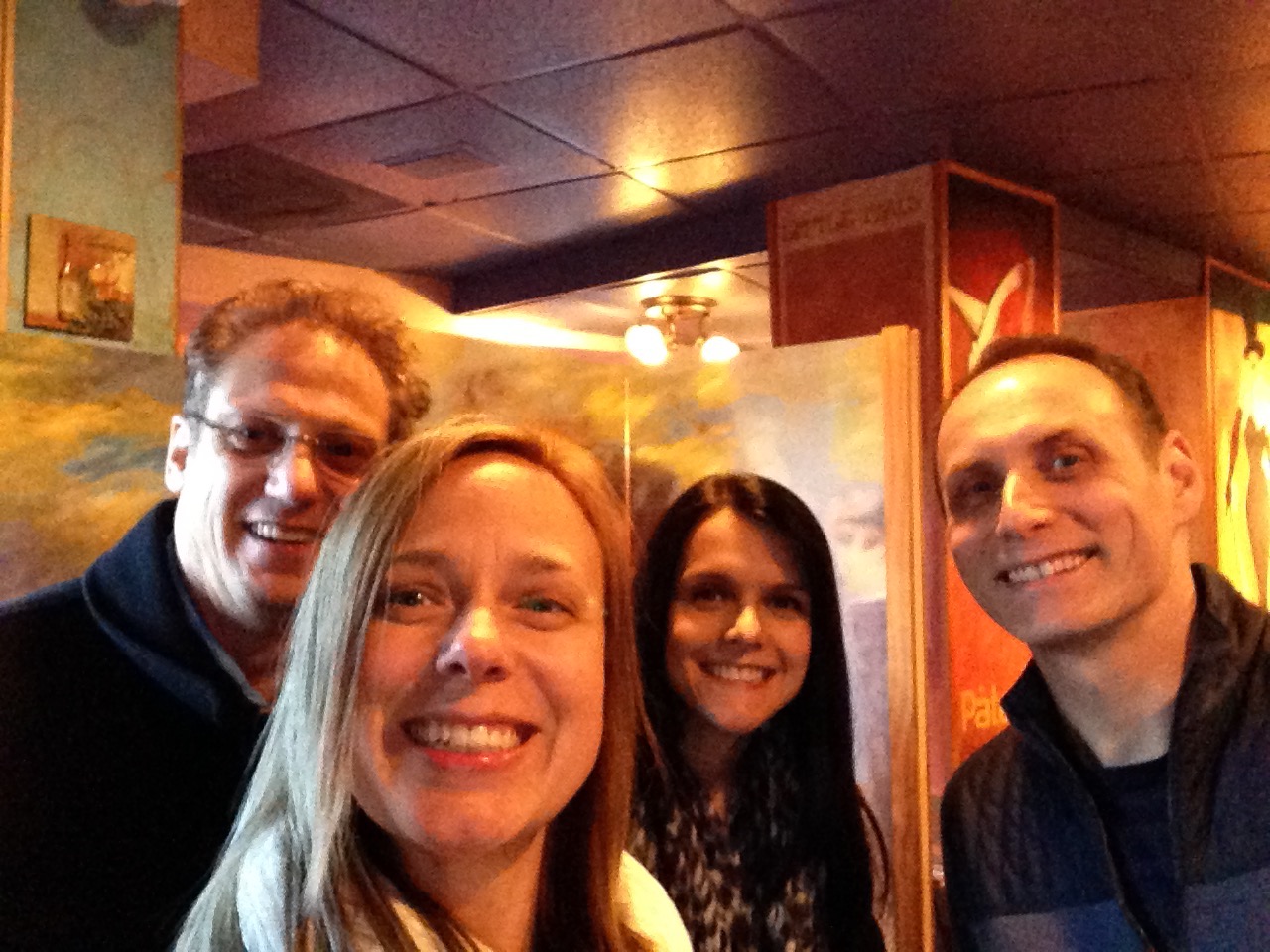 We had numerous Compelling Conversations with TESOL pal Eric Roth (left)

The Inner Harbor – Though the air was crisp for April, the sun came out a few times, and we enjoyed a walk around the historic seaport. Tanya and I took a tour of the USS Constellation, the last all-sail warship built by the US Navy whose main mission was to disrupt the slave trade. We warmed ourselves up with some traditional crab soup at the Tír na nÓg Irish Bar & Grill. Yum!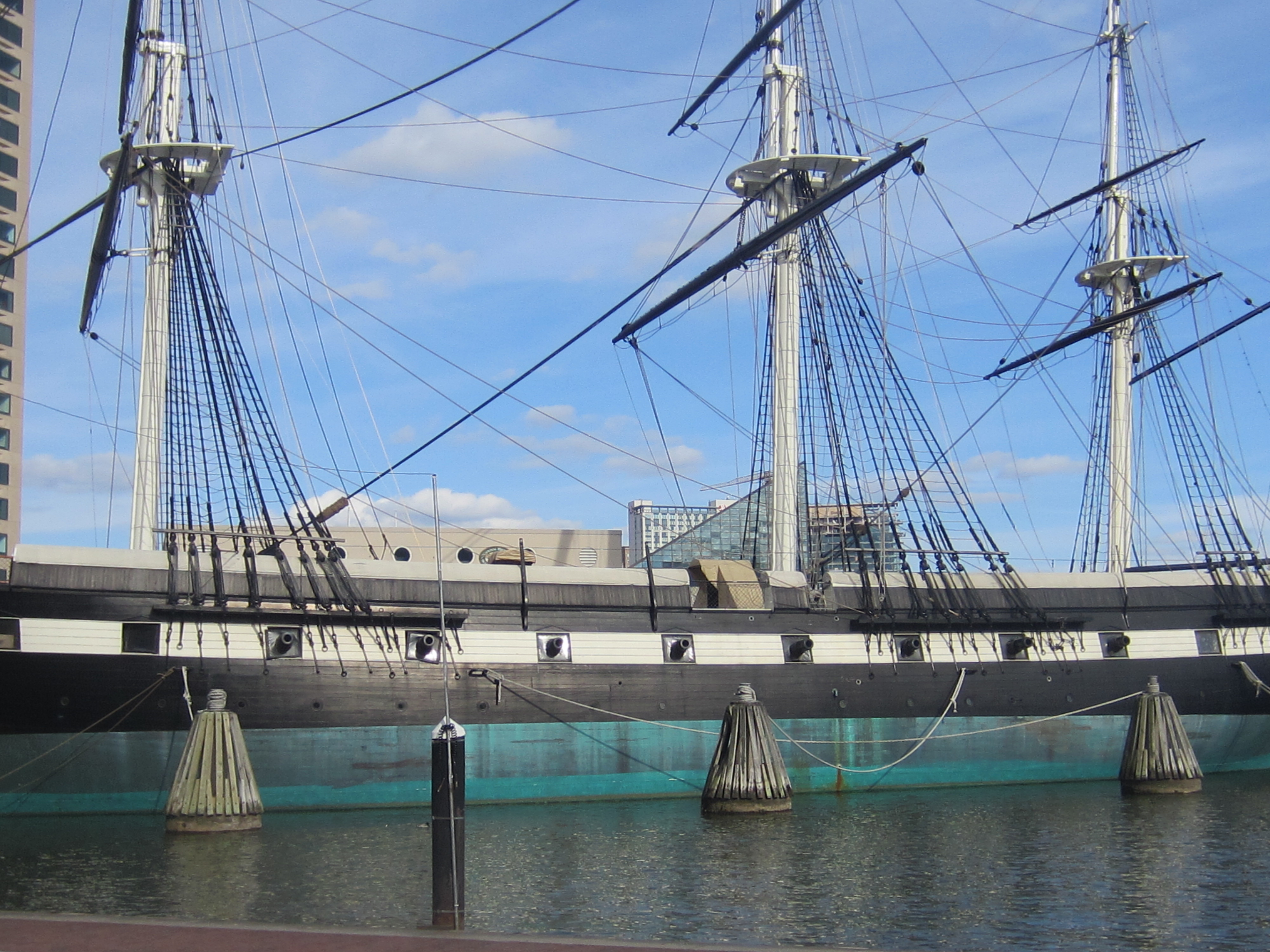 Fells Point – After the conference we enjoyed hanging with locals and listening to live music. Bands played everything from La Bamba to Metallica!
The Gallery Mall – It was pretty convenient to have a mall attached to our hotel. Even though we're TESOL pros by now, we always forget something important, such as a mouse pad or extension cord. (Note to self: Remember packing tape next year. Fed Ex charged us $21 USD for two rolls.)
Uber – This was a convenient, informative, and inexpensive way to get around Baltimore. I can't wait to give the service a try here in Canada.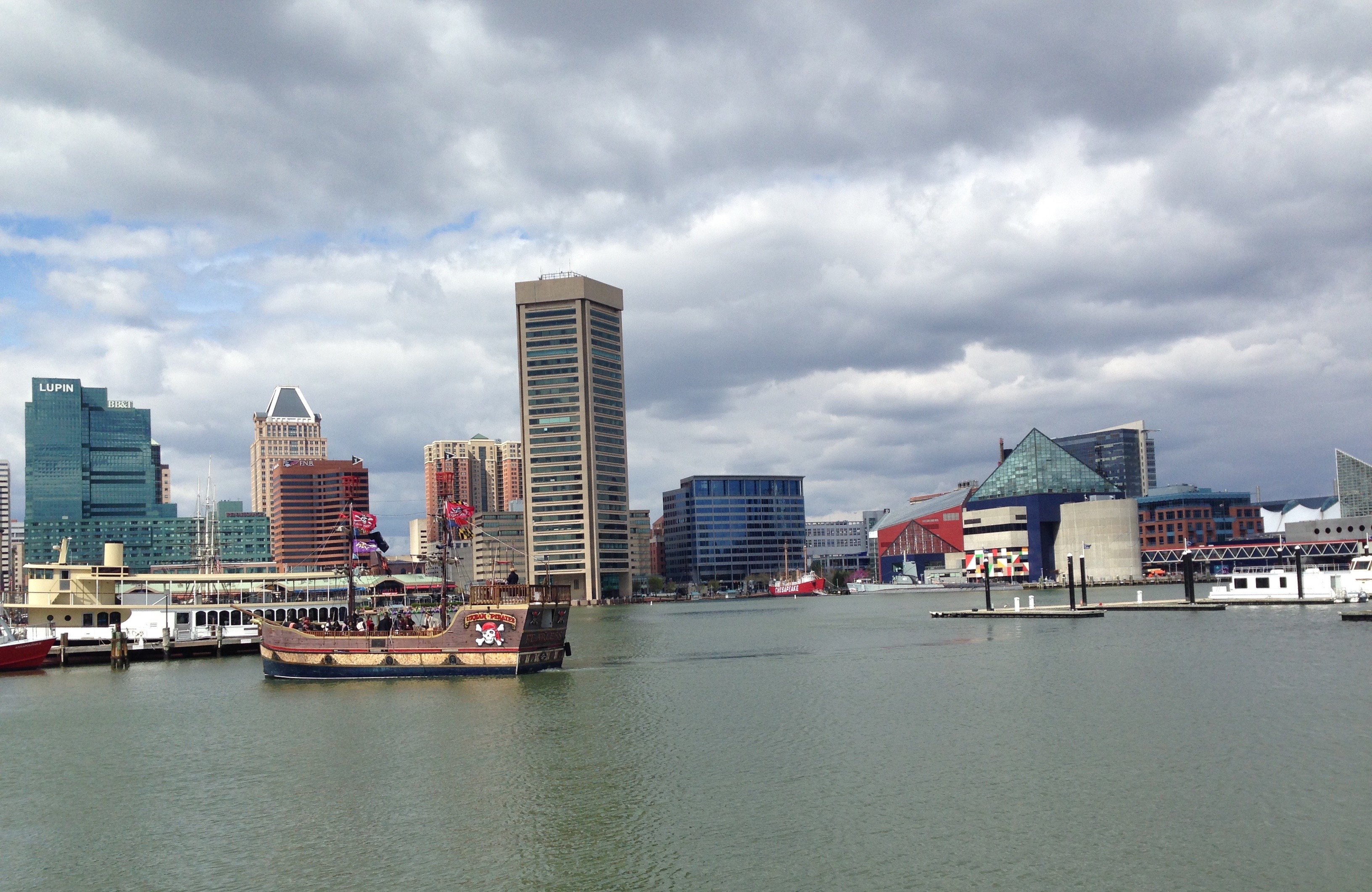 What we liked about the TESOL 16 Convention
The location – As mentioned above, Baltimore's Inner Harbor was beautiful and charming.
The TESOL app – Last year we didn't open the program. This year, we saved the paper and didn't even grab a program.
The heat – Even though the Expo Hall was in the basement, we didn't freeze like we normally do at TESOL.
The sessions – With three of our own sessions and two booths to man, we only had time to attend a few sessions, but this year we picked the right ones! All of the teachers we spoke to seemed satisfied with the ones they attended as well. (Check out this review of Teaching English with Selfie Videos.)
The ELT authors – We met and chatted with the lovely Sybil Marcus, author of A World of Fiction, and my long-lost friend Jeremy Harmer (who I hadn't seen since IATEFL in Brighton back in 2011).
The ice cream break – Our TESOL friend Sam delivered it to us, so we didn't even have to leave our booth.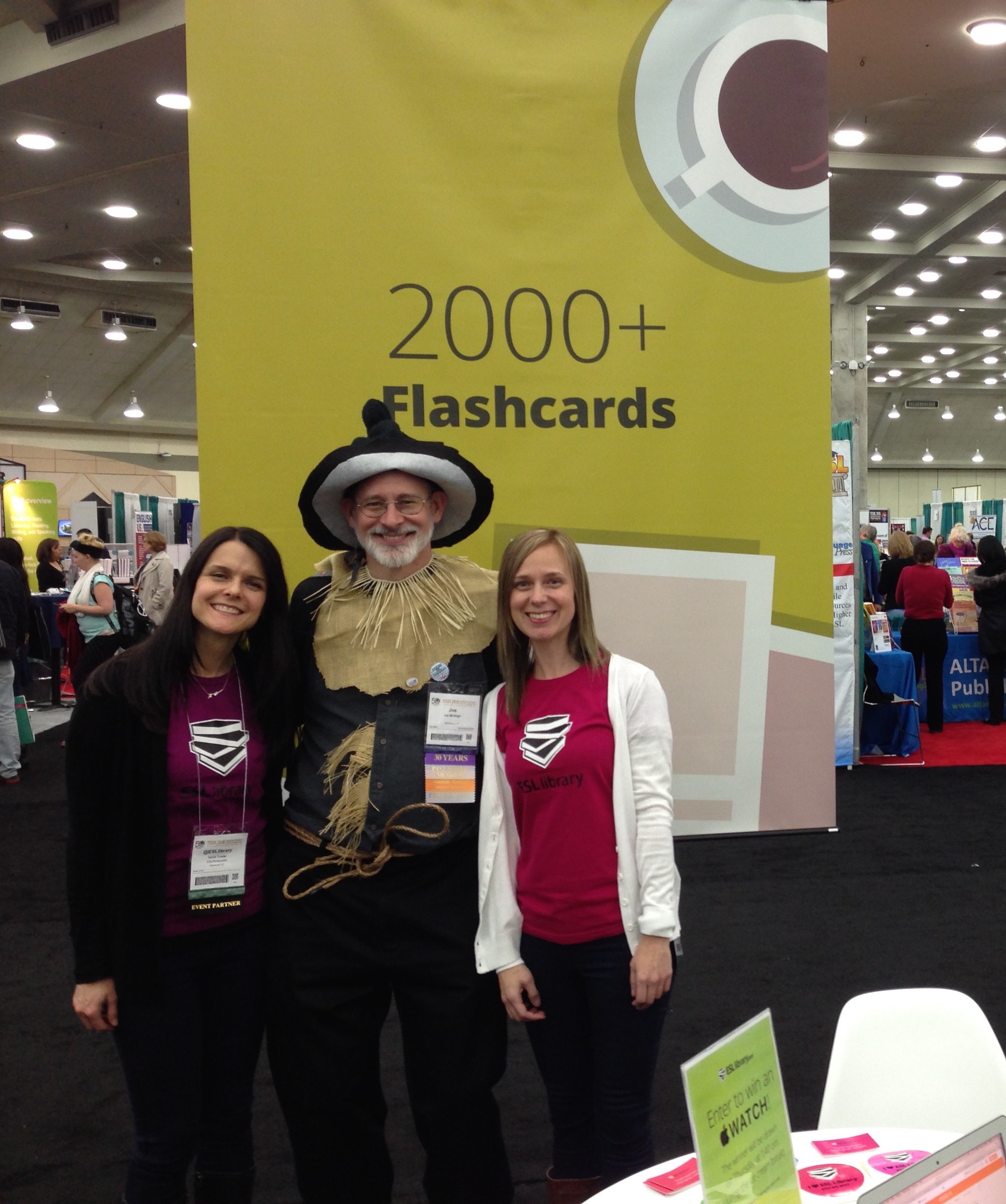 Above: Tanya and Tara pose with Twitter pal @JoeMcVeigh who starred in TESOL's The Wizard of Oz (a musical romp reflecting on 50 years of TESOL)
What TESOL attendees loved about ESL Library
The demo of our digital platform. Teachers can't wait until they can actually start using it in class.
Our How to Tweet lesson from our Writing in English section.
Our small publishing team. "There are only five of you?"
The NEW Resource Section.
The Flashcard Library. (NEW demo available.)
Our affordable subscription price. (Equal to a cup of coffee per month.)
Our multi-teacher pricing. Administrators love that they can manage sub-accounts when teachers come and go from their programs and schools.
The accessibility. "Yes, teachers use ESL Library in China!"
The art in our lesson plans. We love it too!
Sprout English. Teachers love that we have a sister site with materials for young learners.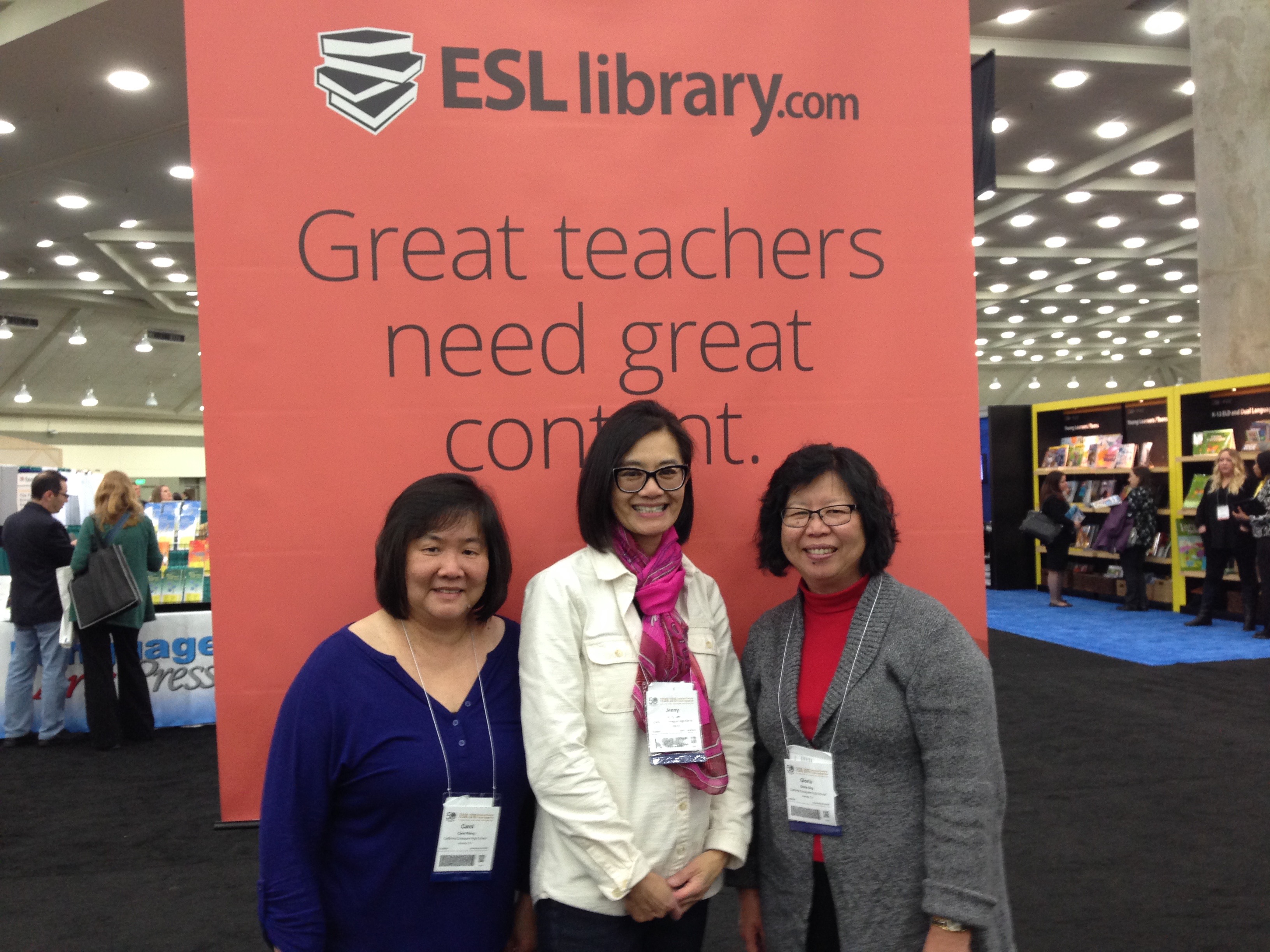 Above: New subscribers from California Crosspoint High School
What TESOL attendees want to see on ESL Library
We love getting feedback from our long-term subscribers. After many years at the TESOL booth, I can even wave at these enthusiastic members from afar. Here are a few of their requests.
more lessons on social justice and civil rights (watch for an upcoming lesson on the Underground Railway)
beginner-level materials that are graded for low-beginner rather than high-beginner
digital lessons that can be used in an online tutoring scenario (Coming soon!)
the option to drag flashcards into digital lessons
videos
support for using the flashcard library (check out our how-to demos)
visuals for practicing sequencing
more Grammar Stories (check out our newly designed section)
the ability to have one subscription to ESL Library and Sprout English (We hear you!)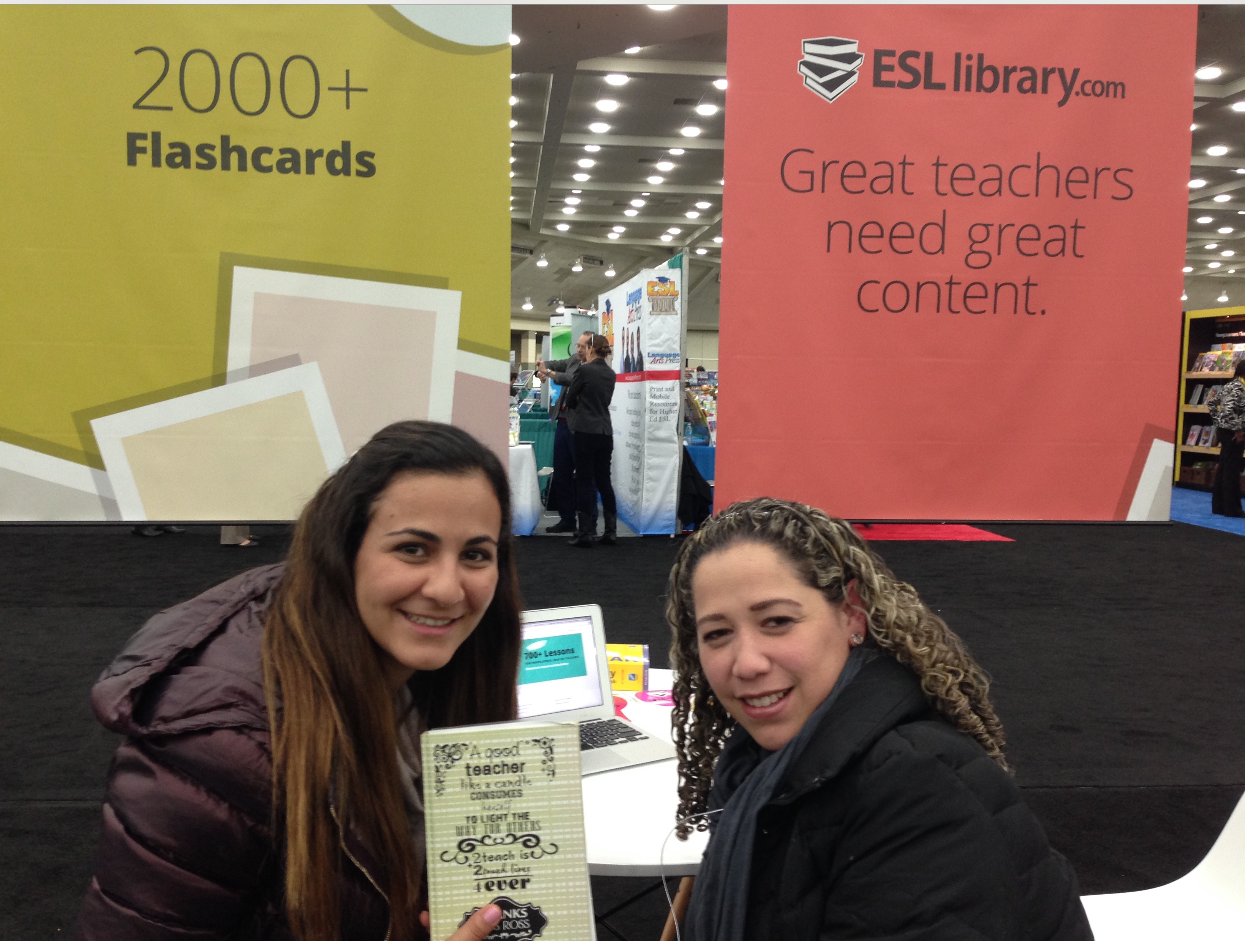 Above: New Sprout English subscribers, Rosanna and Ana. This program director made customized journals for her teachers!
One of my most memorable moments of the week was spotting long-term subscriber Laura Jacob across the Expo Hall. When I caught up with her she had this to say about ESL Library…
"You are the future."
Thank you Laura and all of the other great teachers we spent time with in Baltimore, including Eric, Ken, Stephen, and all of the ESL Library Ambassadors! And a big thank you to Ben for inviting us to tag along with him every year at TESOL and for being the best storyteller in ELT. We shared enough laughs to get us through until next year.
See you in Seattle for TESOL 17!