We want to say a huge thank you to the teachers who picked up a T-shirt at our #TESOL16 booth and helped spread the ESL Library enthusiasm in Baltimore! Besides a colorful new shirt, each one sported a big, bright smile and agreed to pose for our blog. Allow me to introduce you to our first official ESL Library Ambassadors!
ESL Library Ambassadors
Cathy (in blue below) is the English Program Director for Alliance for International Women's Rights. ESL Library donates memberships to this program each year. Cathy says our materials reach hundreds of girls and women in Afghanistan and Nepal. Here is Cathy with one of AIWR's volunteer teachers, Anne (in red), from Texas. Thank you for all you do!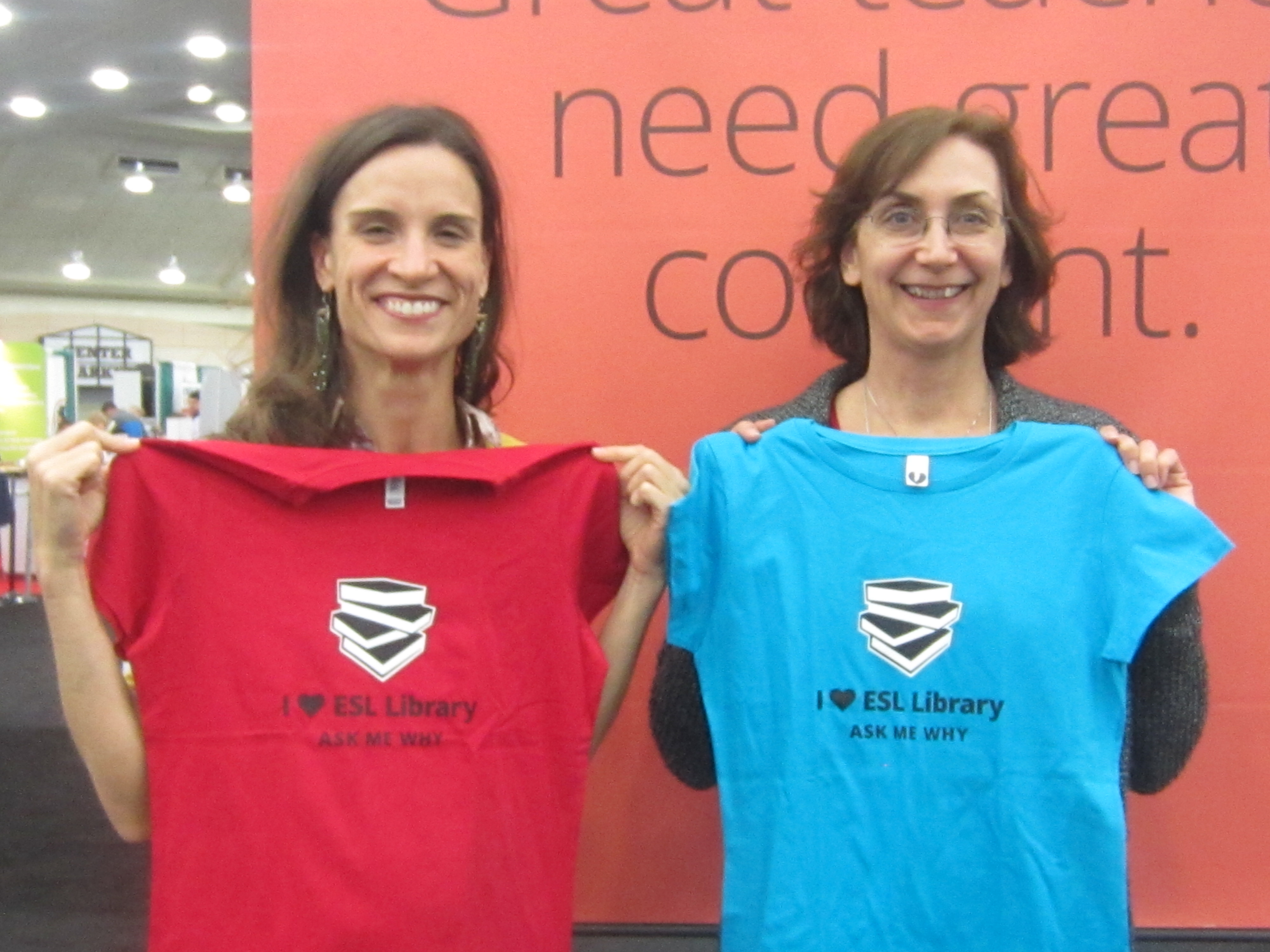 In green, we have ESL Library Ambassador Julie from Kentucky who may have been the best dressed teacher at TESOL! Julie told us that she has used ESL Library for at least 10 years!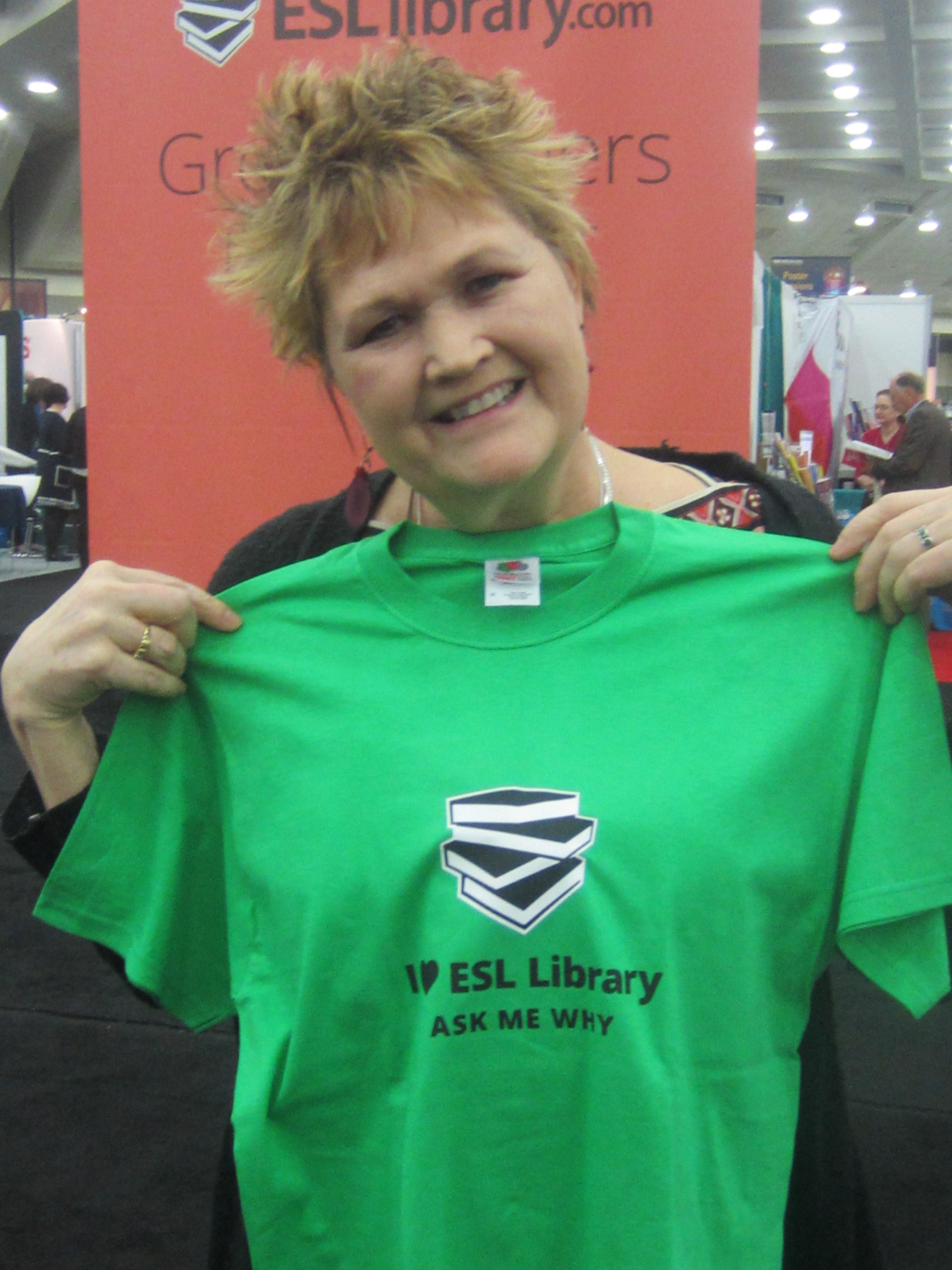 Susan (in pink) said being an ESL Library Ambassador comes naturally because she is always telling people about our site! Susan loves the new student versions of our lessons.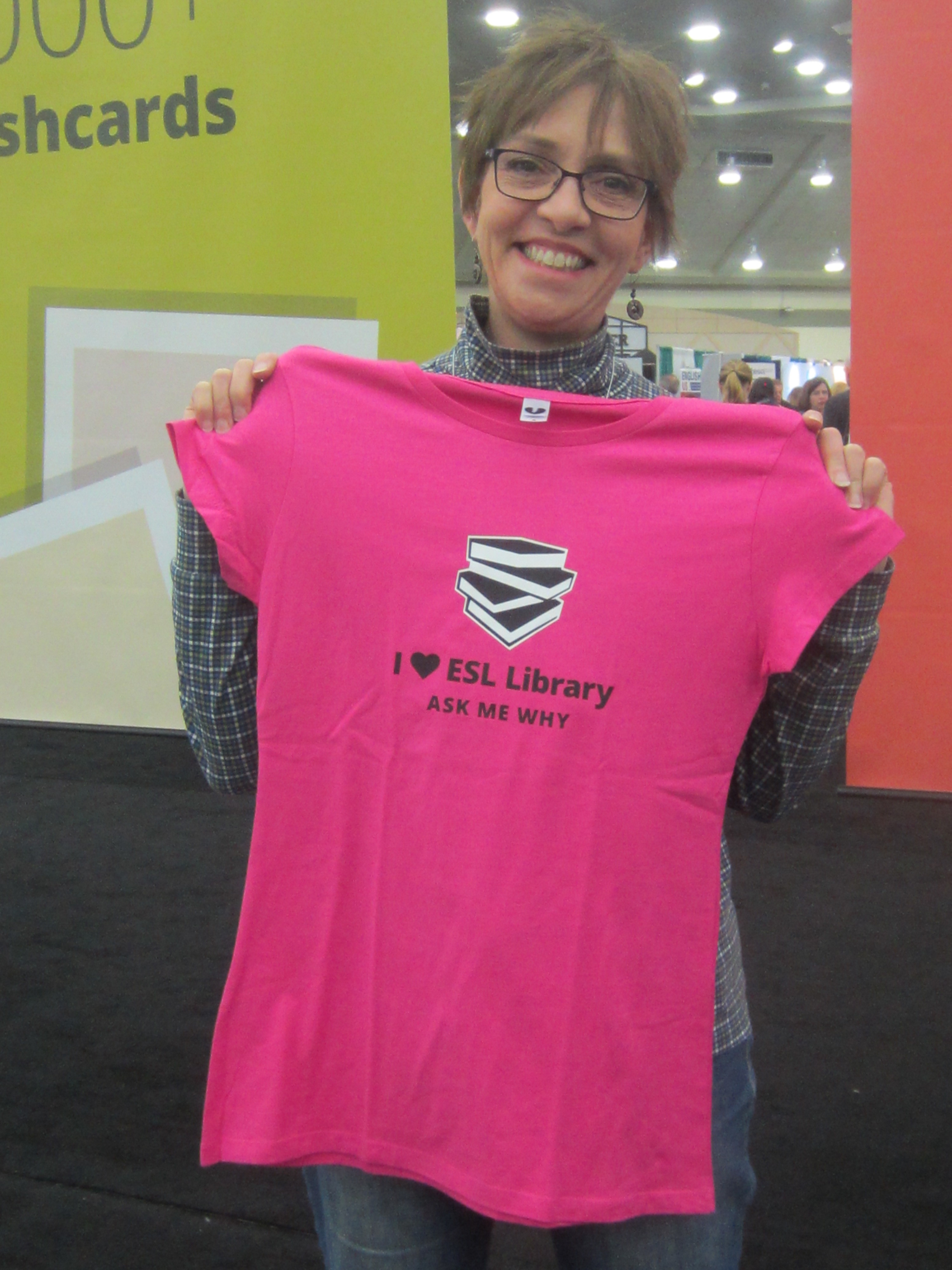 Kristine (in blue) from Cleveland was so enthusiastic she put her T-shirt on and got right to work telling teachers why she loves us. Thanks, Kristine! Please tell Lynn we need her to come back to our booth next year because she had her eyes closed in the picture we snapped of the two of you!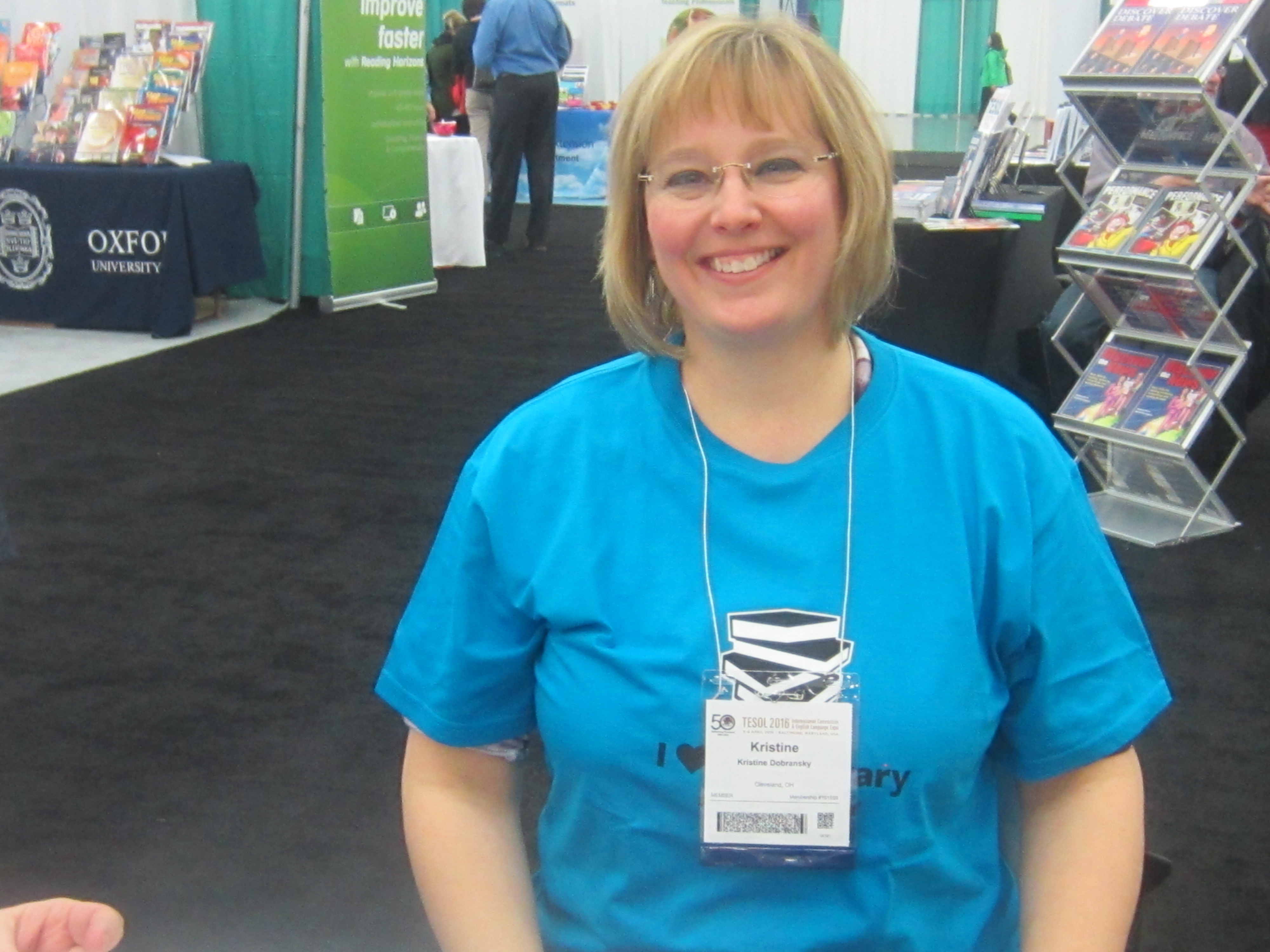 We gave our last T-shirt away to Dorothy from Virginia. It's just her color, don't you think? We're so happy to have you on our sunny team of ESL Library Ambassadors, Dorothy!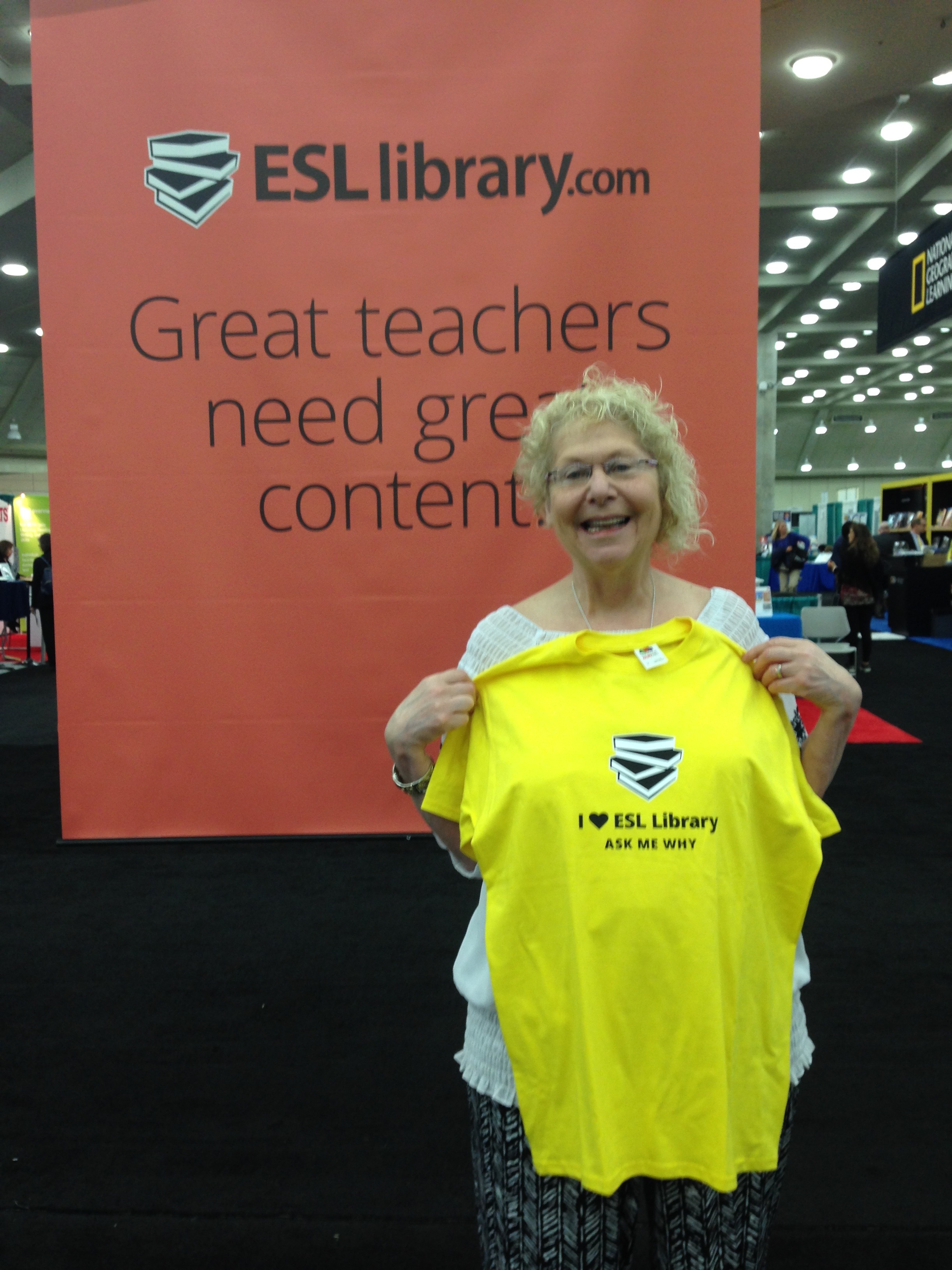 How to be an ESL Library Ambassador
Even if you don't have an official T-shirt, you can still be an ESL Library Ambassador! Here are some ways you can show your support.
Tell your teaching colleagues why you love ESL Library. These How-To Demos can help you learn about all of the useful features.
Talk about ESL Library at conferences and PD events.
Tweet about the lessons you use. Retweet the @ESLlibrary updates. You use Twitter, right?
Share our Facebook and Google + posts. We have Instagram too! You can also see what people are pinning on Pinterest.
Send feedback to our team via email. We love hearing from you, and you can connect directly with the people who develop the materials.
Share your requests. Active ESL Library subscribers help us build this library one lesson at a time.
Leave comments on our blog.
Offer to write a guest post for our blog about how you rely on ESL Library (or about any topic that will interest language teachers).
Tell your administrator about ESL Library. Many administrators don't realize they can purchase and manage sub-accounts with multi-teacher licensing.
Tell your teaching friends about Gift Subscriptions.
Thanks for your support!