"Language is not a genetic gift, it is a social gift. Learning a new language is becoming a member of the club -the community of speakers of that language." – Frank Smith
Learning a language takes practice, practice, practice! Our students become more fluent the more they speak, listen, read and write in English outside our classes. Below is an infographic and list of web tools and apps for your students to improve their English. Feel free to share these resources with your learners so they are encouraged to practice English continuously throughout the day.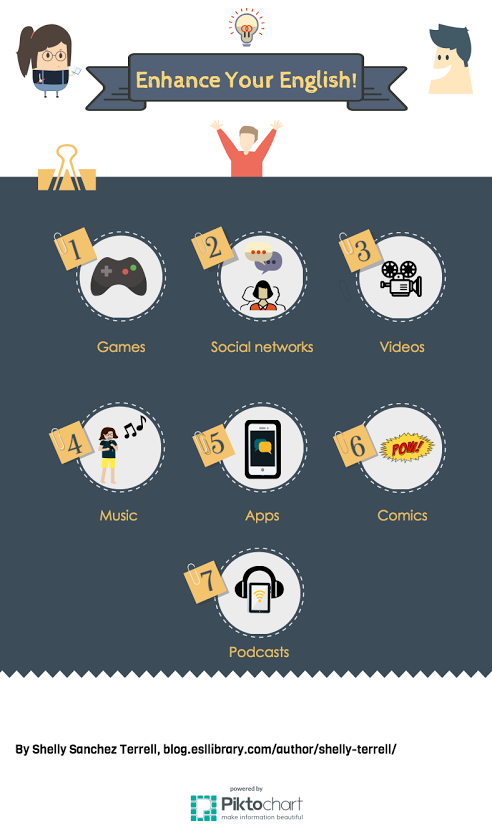 Games – Learners can play various games to improve their English. Kindersite is full of games for learning English. One of my favorite apps and sites with language games is Tiny Tap. Adults can learn vocabulary with the popular vocabulary apps Words With Friends, Words on Tour, Word Streak With Friends and What's the Phrase?.
Podcasts – Your students can listen to ESL Library's English podcasts and learn grammar and vocabulary about various topics. Learn how to use these podcasts to inspire a dictogloss activity. Your students might also enjoy these podcasts – Absolutely Intercultural, ELLO, and Poetry 4 Kids.
Videos – Your students can learn English by watching videos. English Central has various videos to help students practice their pronunciation. BlubbrTV and ESL Video are full of quizzes. Steve Ford, of Peppy English, has various videos teaching idioms, phrases, and more. He will even answer questions from the audience in upcoming videos. For younger learners, videos become an even more essential tool, and one that their parents can continue to use to reinforce learning at home. Kids love singing along to videos, and it can be a great reward for the end of the lesson, or used at the beginning to get rid of some of their bouncy energy.
Apps – Encourage your students to learn language with their mobile devices! Quizlet is an app with vocabulary flashcards and games. HelloTalk allows you to chat with other language learners. The Dictionary app works offline to help you define and pronounce thousands of words. Duolingo and Busuu have vocabulary quizzes and learning games for language learners.
Music – Lyrics Training is a site for learning English through song lyrics. FluencyMC has created many rap songs to help you learn grammar and more! ESL Hip Hop has videos, grammar exercises and more featuring famous musicians. Check out these posts with more ideas- Learn English Through Song Lyrics and Choosing Music Videos for the English Classroom.
Social networks – Your students can join sites like My English Club and Voxopop to learn English with language learners around the world.
Comics – Students can have fun learning English with these free comic sites- GrammarMan, Comics English, PlayComic, Zen Pencils, Learn English with Comic Strips, and Teach English with Comics.
How do you inspire students to learn English at home?