It's field trip season! Many teachers save field trips for the end of the school year when the weather is conducive to being out and about.
English language learners in particular need to get out into the real world at every opportunity. Out-of-class excursions don't have to involve costly bus trips and admission fees. Language is everywhere, and just going for a walk with the teacher can be educational.
ESL Library offers numerous topic-based lessons that can be used in combination with a wide variety of field trips. We hope this post inspires you to think outside of the classroom walls.
Happy travels!
Go to a Museum
Did you know that May 18 is International Museum Day? Try our Everyday Dialogues lesson on Going to a Museum before you take your students to an exhibit.
Go to a Maple Syrup Festival
Try our Famous Things lesson about Maple Syrup before your students try tapping a maple tree at a local festival.
Visit a Chocolate Factory or Sweet Shop
We have a variety of lessons to try, including a Discussion Starters lessons about the Sugar Industry and the Cocoa Fields. We also have a Famous Things lesson on Cocoa and a Health Matters lesson: 6 Myths about Chocolate.
Visit a Coffee Shop
Try our Everyday Dialogues lesson about Going for a Coffee. Have your students listen for new vocabulary and expressions. The FREE handout below can be used with any field trip.
Take In a Sporting Event
Why not take your students to a baseball, hockey, or basketball game? Or maybe your students prefer soccer or football? Check out our Famous Sports section for lessons on all of these spectator sports.
Go to a Yoga Class
In some cities, you can even do yoga in the park. Try our ready-made lesson on Yoga before you and your students give it a try.
Go Out for Ice Cream
It's easy to make an ice cream excursion educational when you teach English. We have a Famous Things lesson on Ice Cream (with a bonus Visual Learning printout on our blog).
Visit a Popular Tourist Attraction
Our Famous Places section has lesson plans on a few tourist attractions near to where you teach. Niagara Falls, Statue of Liberty, The Eiffel Tower, The Leaning Tower of Pisa are all popular tourist attractions that English learners love.
Search for Surveillance Cameras
After having a discussion about surveillance, take a walk around your local city. How many cameras can your students spot?
Visit a Farm or Garden
Read about the importance of honeybees before visiting a local garden or farm.
Eat at a Buffet
Our Discussion Starters lesson on Food Waste may change how your students eat. Take your students to a buffet and observe how they make choices after having studied this topic. Or, have your students visit a fast food restaurant to observe food waste by different ages of diners.
Visit a Landfill
Our Discussion Starters section has a lesson on Garbage Solutions as well as a lesson on Ocean Garbage and Composting. Why not build a compost for your school?
Go to a Zoo or Aquarium
Do we need zoos? You can decide whether to have this discussion before or after visiting a local zoo or aquarium. Try our Discussion Starters lesson on Zoos. June is Zoo and Aquarium month.
Invite a Guest Speaker
Try our Discussion Starters lesson on Dream Jobs. Then invite a guest speaker to your classroom or ask to visit someone at work. Who would your students love to meet?
Check Out Public Art
If you live and teach near a large city, there is likely some public art on display. Try our Discussion Starters lesson on Graffiti before you hit the downtown core.
Visit a Retirement Home
Is there a local nursing or retirement home near your school? Why not arrange speaking buddies between the residents and your students? Check out our Aging and Retirement Lesson Collection.
Go to an Arcade
Do you have gamers in your class? Have a debate about Video Game Violence before taking them to an arcade or games room.
Go Golfing
In case you need an educational excuse to take your students golfing or mini-golfing, try our Famous Sports lesson on Golf.
Take a Nature Walk
Pre-teach some vocabulary using our Flashcard set on Trees, Flowers, and Plants. How many species can your students find as they walk around the neighborhood?
Go Shopping
Choose from any of the lessons in our Lesson Collection on Shopping. Then send your students out to the mall and challenge them to speak English.
Go to a Park and Play Frisbee
Try our Mini-Biographies lesson on the Frisbee before you take your students to the park for a picnic.
Visit a Toy Store
You don't have to be a kid to have fun in a toy store! Print out and photocopy a few pages of Toy Flashcards and have your students search for all of the toys on the list. In our Mini-Biographies section, we also have lesson plans on Barbie. Compare Barbie to Lammily.
Clean Up a Park, Beach, or Neighborhood
If you're doing something special for Earth Day or World Environment Day, or if you are doing a theme-based unit about the environment, ESL Library has plenty of materials that you can use. Check out our Lesson Collection about the Environment.
Go on a Scavenger Hunt
After completing Detective Series I or II with your students, send them out into the real world on a scavenger hunt. In fact, a scavenger hunt can be useful on almost any field trip. In the PDF below, there are two styles of handouts that you can personalize for any field trip.
Go to a Dragon Boat Festival
You may want to try dragon boating or kayaking with your English learners. Check out our Dragon Boat Festival lesson.
Go to an Aboriginal Exhibit
Try our Aboriginal Day lesson about native peoples in Canada.
Go Horseback Riding
Try our related lesson Holidays & Events lesson about The Calgary Stampede. This lesson (or our Running of the Bulls lesson) can get your students talking about animal rights.
Go to a Nightclub
You don't have to go on all of the excursions. Pre-teach some useful expressions with our Functional English lesson on Making Requests. Then tell your students to go dancing.
Holiday-Themed Field Trips
Visit our Holidays & Events section to find lessons related to these holiday-themed field trip suggestions:
Go to a Santa Claus parade or Christmas concert
Go to a St. Patrick's Day parade or party
Go to a Chinese New Year parade or party
Go to a Mardi Gras parade or party
Attend or organize your own Easter egg hunt
Useful Functional English Lessons to Use Before Field Trips
As an ESL Library subscriber, you can create your own folder called Field Trips and place any of the lessons above into it for future use. It only takes a few seconds, and it will look like this: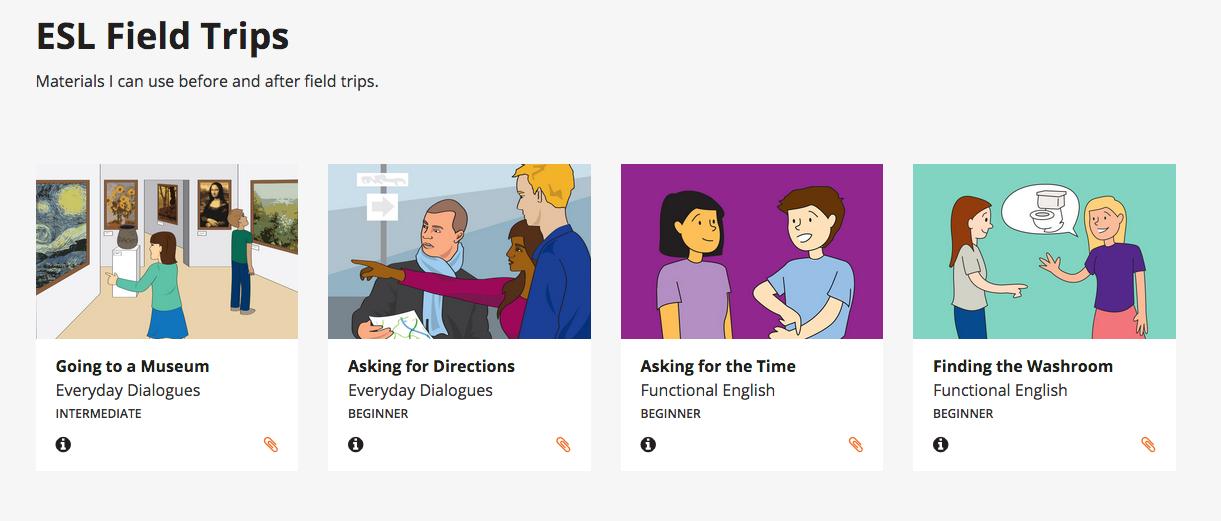 The following lessons provide functional English practice for many different field trips.
Taking the Bus
Asking for Directions
Finding the Washroom
Paying for an Item
Saying Thank You
More Field Trips Ideas
If you have a field trip planned, use our handy search engine to see if ESL Library has any related lessons that you can use. Please leave a comment telling us what kinds of field trips you've taken your English learners on.