Podcast: 25 Years Since the Fall
Podcast: Play in new window | Download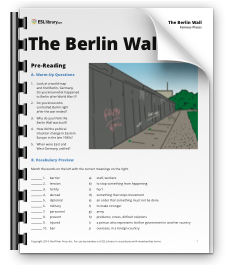 November 9, 2014 marked the 25th anniversary of the fall of the Berlin Wall. This week's podcast features a reading from our ready-made Famous Places lesson plan about the Berlin Wall. In our newly updated lesson plan, students learn some basic history about the Berlin Wall. They review vocabulary and discuss border crossing issues. To see the full transcript and use the ready-made lesson plan in class, log in to ESL Library and choose our Famous Places section. We also have a low-intermediate Berlin Wall lesson plan in our Mini-Biographies section.
Learn how to use this podcast for a dictogloss activity.
Check out our full collection of Ready-to-Print Functional English Lesson Plans.
Coming soon to our podcast…Mandatory Voting.
Introduce your students to iTunes today! This is our 235th episode.
Check out previous podcasts here, including last week's podcast on Gender Inequality.