Podcast: Holocaust Remembrance Day (also, Yom Ha'Shoah)
Podcast: Play in new window | Download
In Memory of the Holocaust Victims
Holocaust Remembrance Day, known in the Jewish community as Yom Ha'Shoah, takes place annually on the 27th day of Nisan. International Holocaust Remembrance Day (UN) takes place on January 27. Other nations honor Holocaust victims on different dates that coincide with local history.
ESL Library received a few requests for a lesson plan about the Holocaust, and we have now added a Holiday & Events lesson to our library. In this lesson, students learn some important facts about the Holocaust. They also learn useful expressions for discussing sensitive subjects. You can preview the reading through this podcast to see if you think it is appropriate for your language learners. You can also assign it for extra listening practice. To see the full transcript and use the ready-made lesson plan in class, log in to ESL Library and choose our Holidays & Events section.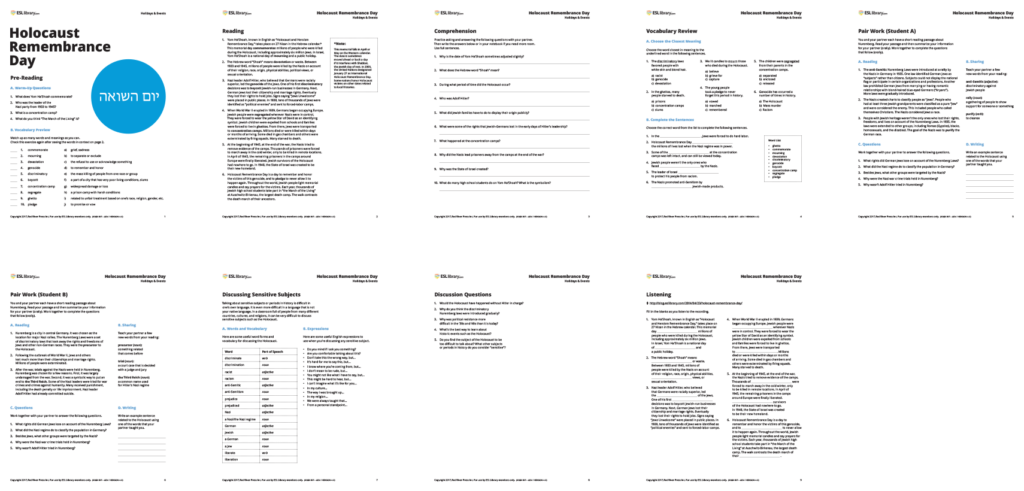 Your students can also find this episode on iTunes. This is episode #207.
Find our previous podcasts here, including a recent podcast about Passover.