Holidays: April Fools' Day
Podcast: Play in new window | Download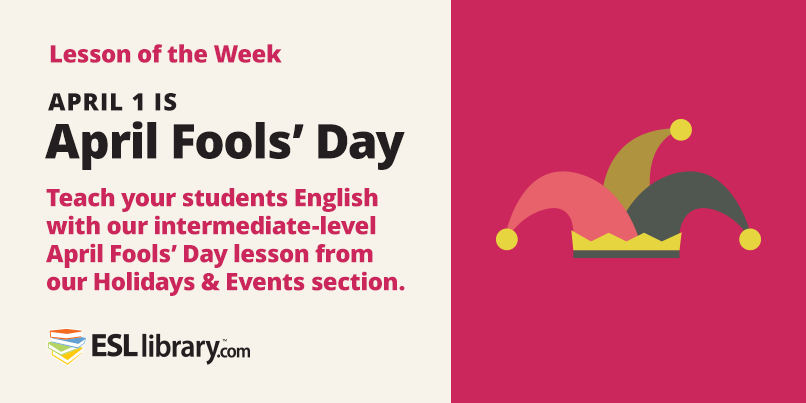 April Fools' Day pranks aren't as simple as they used to be! These days pranksters use various methods to fool the masses, including email, tweets, Facebook updates, product launches, and YouTube videos. Check out this week's podcast for examples.
In our related lesson plan, students learn about trickery, including The April Fish. Visit ESL-Library to print out the April Fools' Day holiday lesson that goes with today's podcast. This lesson comes with vocabulary review, a reading, comprehension questions, pair work, and idiom practice. Preview all of ESL-Library's Holiday lessons here. If you have any suggestions for topics, please leave a comment.

Related in the ESL-Library
Warm-Up: You're Pulling My Leg
Coming soon…Superstitions
Please introduce your students to our FREE podcasts. These can act as a preview to our Mini-Biography, Discussion Starter, Grammar Story, Holiday or Health lessons. They can also serve as extra listening homework to help your learners develop an understanding of the rhythm of English. Some teachers use our weekly podcast (posted every Wednesday) as a warm-up for an online tutoring session.
Introduce your students to iTunes today! This is our 107th episode.
Check out last week's podcast Don't Forget to Floss!.