Festivus: Observed on December 23rd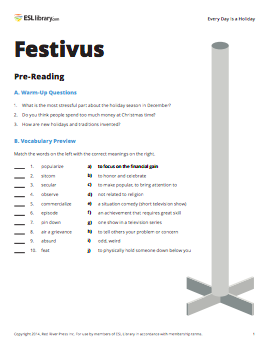 Is the commercialism of Christmas getting you down? Are you worried that there are only a few shopping days left? Why not put down your wallet and celebrate Festivus? If you don't know about this hilarious holiday, don't worry. There's not much to it!  All you need is an aluminum pole, a quirky family or group of friends, and a place to wrestle.  Put down your credit cards, wrapping paper, lights, and gift receipts! It's time to celebrate Festivus (the holiday for the rest of us). We hope you'll try this lesson in your class on December 23rd.
Kramer: Is there a tree?

Frank: No. Instead, there's a pole. Requires no decoration. I find tinsel distracting.

From the Festivus episode "The Strike" on Seinfeld (More Festivus quotes here)
Are you a subscriber of ESL-Library? Check out our other Every Day is a Holiday ESL Lesson Plans in the Lesson Plan Library. If you're not a subscriber, join today! You don't need to go to the mall.
Search for "Seinfeld Festivus" on YouTube and enjoy a clip from this episode!
Related Lessons in the ESL-Library
Every day is a Holiday: Boxing Day
Something to Talk About: Black Friday
Happy Holidays or Merry Christmas: Let's Debate