Are your students still playing Pokémon GO? Are they unhappy with the limited Generation 2 update?
Avid Pokémon GO users have a long wish list when it comes to what they want to see in this update. While many gamers have given up on the app altogether due to winter weather or boredom, others are hoping for some big changes. Many, including my ten-year-old son, have so many ideas that they think they could do a better job than Niantic.
While out on our evening Pokémon GO walks, I've noticed how much my son uses "hope" and "wish" in reference to this game. If you teach a Pokémon GO user one-on-one, or if you have a lot of Pokémon enthusiasts in the class, this might be a fun language target to work on.
Challenge your student(s) to make a Pokémon GO wish list. What were they hoping for in Gen 2? What do they wish they could do in this game? Work together to correct the grammar.
Share your students' wish lists in the comments below. (If you're a student, you can share your Pokémon GO wish list too.)
Here are some example sentences based on some recent sub-zero walks with my son:
I hope I will be able to trade Pokémon with other gamers.
I hope there will be more PokéStops near us.
I hope I will be able to battle with my friends.
I wish they would release more Legendary Pokémon.
I wish stronger Pokémon would hatch from eggs.
I wish Pokémon GO wouldn't drain my battery so quickly. (That's mine.)
Alternatively, you could practice second conditionals: If I were a developer at Niantic, I would…
We hope you will also try our Discussion Starters lesson on The "Pokémon GO" Phenomenon.
Happy Holiday Pikachu hunting!
Tara & Son (Team Instinct, Level 22)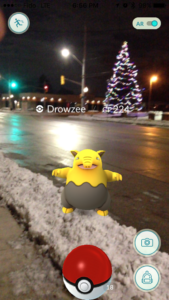 PS. What team and level are you on?